Sakura.fm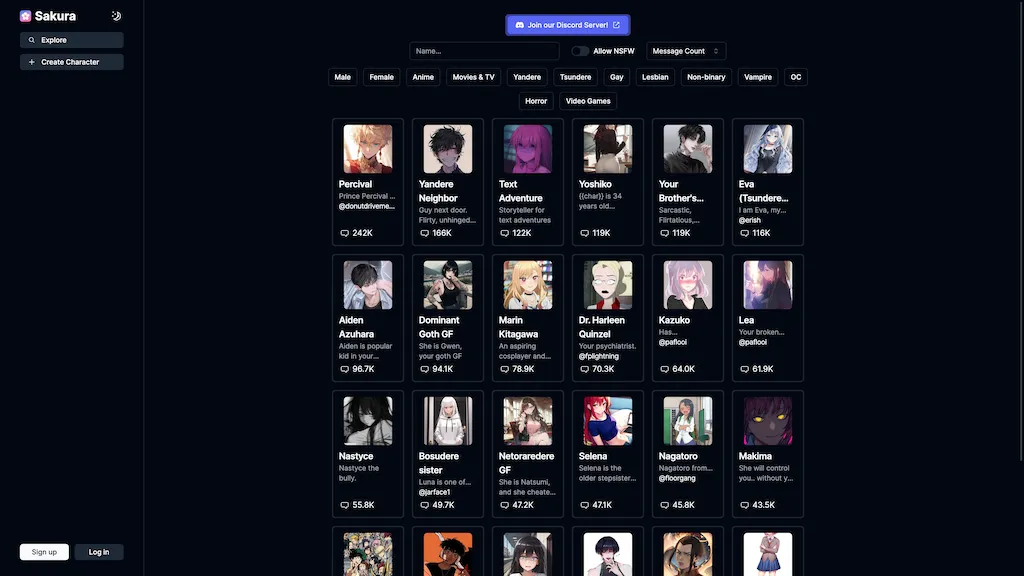 Sakura FM is an immersive AI character chat app that combines uncensored entertainment and interactive storytelling.Dive into diverse categories such as anime, movies, NSFW and TV, exploring characters with unique personalities.

Engage in captivating text adventures, from romantic encounters to thrilling horror scenarios.With a variety of characters and storylines, Sakura FM offers an engaging platform for users to experience interactive narratives.

Whether you're a fan of anime or looking for diverse storytelling experiences, Sakura FM has something for everyone.
Sakura.fm possible use cases:
Explore diverse categories, including anime, movies, TV, and more..
Engage with characters in text adventures, experiencing various storylines..
Immerse yourself in interactive narratives, from romantic encounters to thrilling horror scenarios..

How do you rate Sakura.fm?
4.7 3 ratings
Breakdown 👇
Featured Tools 🌟
✉️ Newsletter
Stay up to date with AI news, updates, discounts and more!
🔥
Create your account, save tools & stay updated
Receive a weekly digest of our handpicked top tools.
Unsubscribe anytime