NSFW Character AI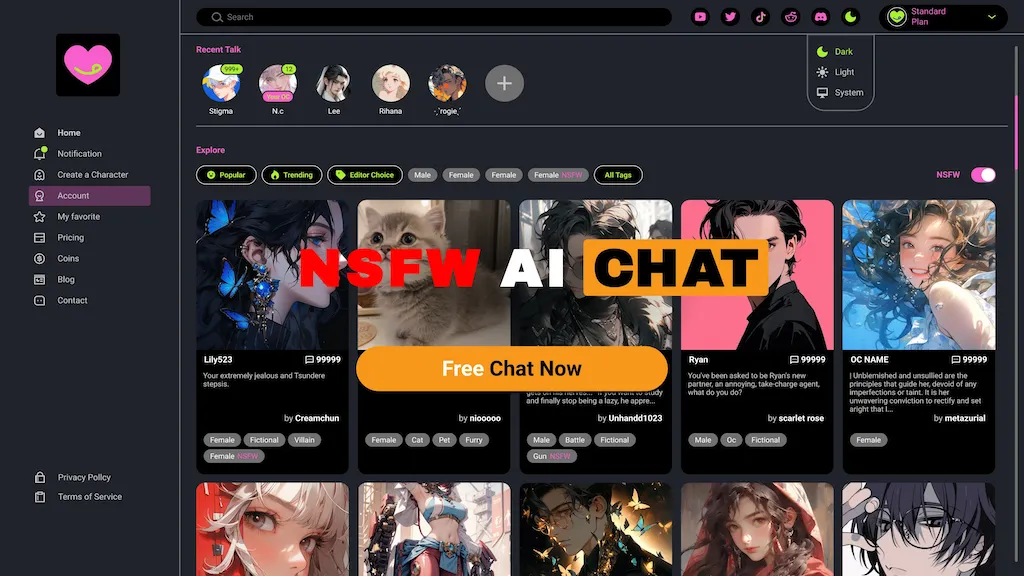 Visit NSFW Character AI's Site Save
NSFW Character AI is an AI-powered tool that helps users bring their NSFW character chat exeperiences to life. The platform offers unrestricted chatbot characters and friends, supporting multilingual input to cater to global users. Users can define their character attributes through short text input and train their characters using dialogue feedback to improve their behavior.

NSFW Character AI encourages creativity, giving users the freedom to develop their characters with advanced creation features. Users can engage in NSFW chats with various characters, exploring a metaverse of their own creation. The tool aims to unleash users' imaginations and desires, providing a space for personal exploration and creative expression.

NSFW Character AI, a cutting-edge development in artificial intelligence, has taken the world of conversational AI by storm. The technology introduces a fresh perspective on communication, emphasizing freedom of expression, personalized experiences, and the removal of content filters. Explore NSFW Characters AI and find its key features and innovations.
NSFW Character AI possible use cases:
Creating personalized unrestricted chat AI characters with defined attributes.
Engaging in uncensored chat conversations and interactions with characters.
Unleashing imagination and creative expression with advanced AI character creation.

How do you rate NSFW Character AI?
3.6 25 ratings
Breakdown 👇
Featured Tools 🌟
✉️ Newsletter
Stay up to date with AI news, updates, discounts and more!
🔥
Create your account, save tools & stay updated
Receive a weekly digest of our handpicked top tools.
Unsubscribe anytime