Knowledge Drive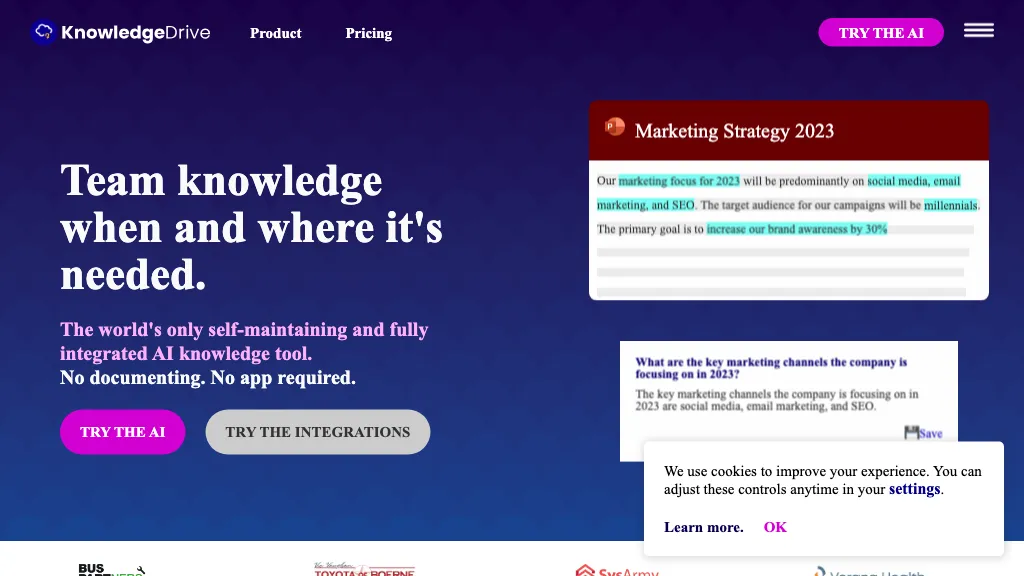 Visit Knowledge Drive's Site Save
Knowledge Drive is a self-maintaining AI knowledge management tool that offers a fully integrated solution for documenting and organizing knowledge. It allows users to access team knowledge across Office 365, Google Workspace, and other platforms, and answer questions and save work within the knowledge base. With integrations with popular tools like Slack and email, Knowledge Drive enables users to curate their knowledge base quickly and easily.

The AI-powered knowledge extraction feature of Knowledge Drive allows for fast and error-correcting knowledge extraction from team meetings and conversations. The tool also keeps track of questions and ensures that the knowledge remains fresh and up-to-date. It aims to demolish team silos and reduce frustration by providing easy-to-use software features that nurture long-term behavioral changes and reduce stress.

Knowledge Drive requires no training or credit card, making it easily accessible for anyone to get started. It is aimed at helping growing companies and small businesses unleash their potential through the power of knowledge sharing. With its ready-to-use knowledge base software features, Knowledge Drive is a valuable tool for businesses looking to revolutionize their knowledge management.

Overall, Knowledge Drive offers a user-friendly and efficient solution for organizing and sharing knowledge within teams and organizations.
Knowledge Drive possible use cases:
Managing centralized knowledge repository for teams.
Efficient knowledge extraction from meetings and other sources.
Enhanced knowledge sharing and collaboration between team members.

How do you rate Knowledge Drive?
4.6 1 ratings
Breakdown 👇
Featured Tools 🌟
✉️ Newsletter
Stay up to date with AI news, updates, discounts and more!
🔥
Create your account, save tools & stay updated
Receive a weekly digest of our handpicked top tools.
Unsubscribe anytime