Crushon.AI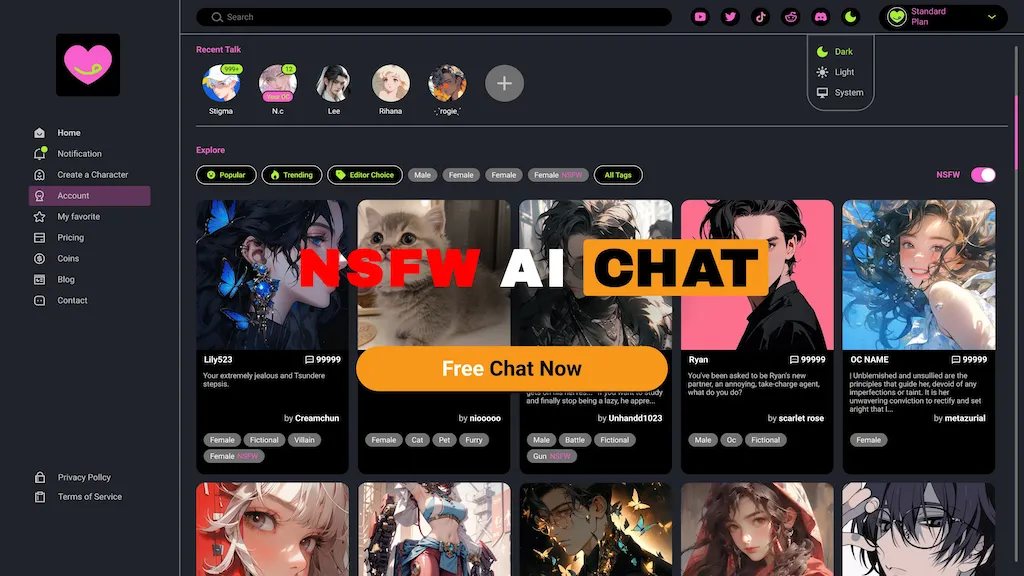 CrushOn Chatbot AI specializes in providing unrestricted, NSFW Character AI Chat experiences. This platform allows users to engage in genuine, no-filter dialogues with their favorite AI characters in an unrestricted setting without censors or filters.

With CrushOn you can create and customize your favorite AI characters to chat with freely and take the conversations in any direction you like without restrictions.
Crushon.AI Highlights:
✅ Deep, emotional conversations: CrushOn.AI's NSFW Character AI Chat platform is perfect for users seeking deep, emotional dialogues with AI characters.
✅ Unrestricted dialogues: The no-filter approach provides the freedom for users to explore unrestricted NSFW Character AI Chats.
Crushon.AI possible use cases:
Engage in emotional or NSFW dialogues with AI characters. .
Create personalized characters for interactive experiences and deep emotional conversations without restrictions.
Engage with customized AI chatbot for unrestricted content.

How do you rate Crushon.AI?
2.8 52 ratings
Breakdown 👇
Featured Tools 🌟
✉️ Newsletter
Stay up to date with AI news, updates, discounts and more!
🔥
Create your account, save tools & stay updated
Receive a weekly digest of our handpicked top tools.
Unsubscribe anytime