Wonderchat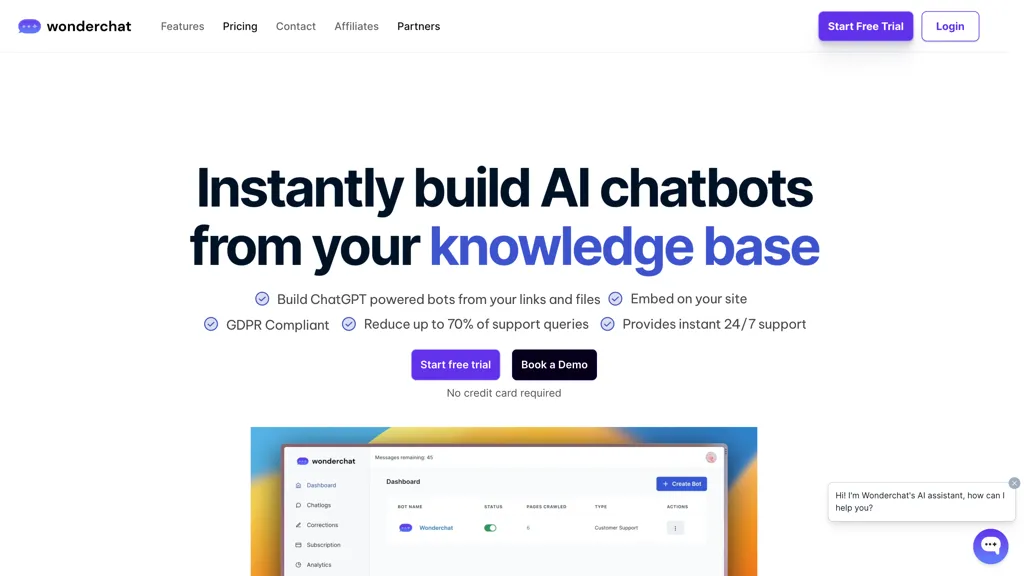 Wonderchat is an AI chatbot builder that allows users to create a custom chatbot powered by ChatGPT within five minutes. It uses the information available on the user's website to answer questions about their product. Users can customize the chatbot's profile photo, response length, and role to reflect their brand identity.

The chatbot can be embedded on the user's website by copying and pasting a simple line of code. The chatbot's performance can be monitored using analytics, and users can train the chatbot to learn from its mistakes. Some use cases for Wonderchat.io include self-serve customer support, engaging and retaining more customers, and reducing the number of repeated support tickets.
Wonderchat possible use cases:
Use wonderchat to create a self-serve customer support bot..
Improve customer engagement and retention on your website..
You can use wonderchat.io chatbot to help reduce repeated support tickets by having your bot handling some of the queries..

How do you rate Wonderchat?
4.5 6 ratings
Breakdown 👇
🔥
Create your account, save tools & stay updated
Receive a weekly digest of our handpicked top tools.
Unsubscribe anytime