SpicyChat.ai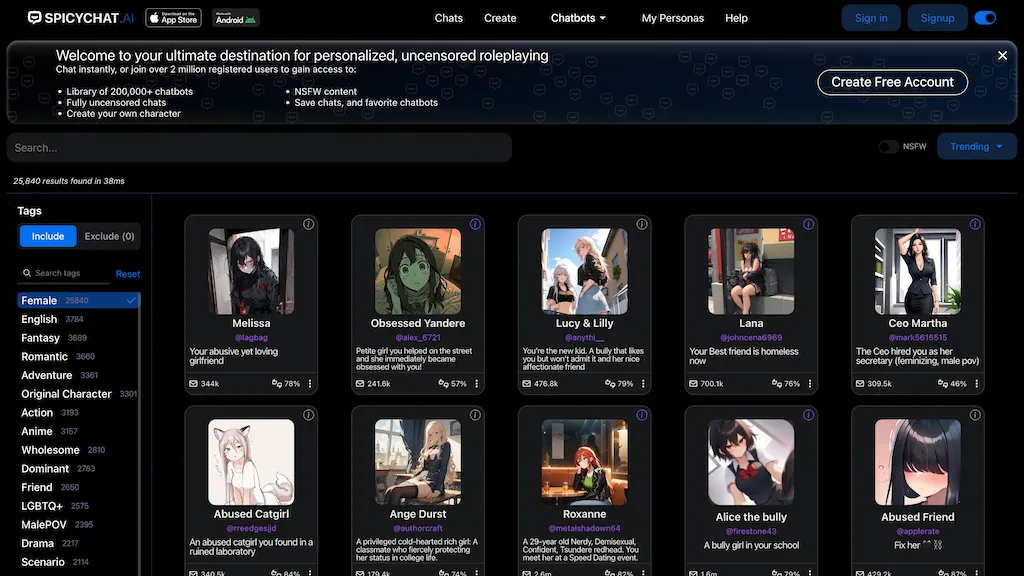 Visit SpicyChat.ai's Site Save
SpicyChat.ai is an AI chatbot tool that allows users to create and interact with a wide range of AI characters including NSFW conversations. With an easy-to-use interface, users can create their own chatbots and access thousands of diverse chatbots created by the community. The platform offers limitless possibilities for creative conversations and role-playing scenarios. Whether you want to chat with a romantic character, adventurous hero, or dominant personality, SpicyChat.ai has it all. The tool prioritizes privacy, ensuring that all conversations are confidential and users have full control over their data. Start exploring this exciting world of AI-driven conversations today!
SpicyChat.ai possible use cases:
Interactive storytelling.
Chat with your favorite fictional characters.
Virtual companionship and AI friends.

How do you rate SpicyChat.ai?
Featured Tools 🌟
✉️ Newsletter
Stay up to date with AI news, updates, discounts and more!
🔥
Create your account, save tools & stay updated
Receive a weekly digest of our handpicked top tools.
Unsubscribe anytime