Show Notes Generator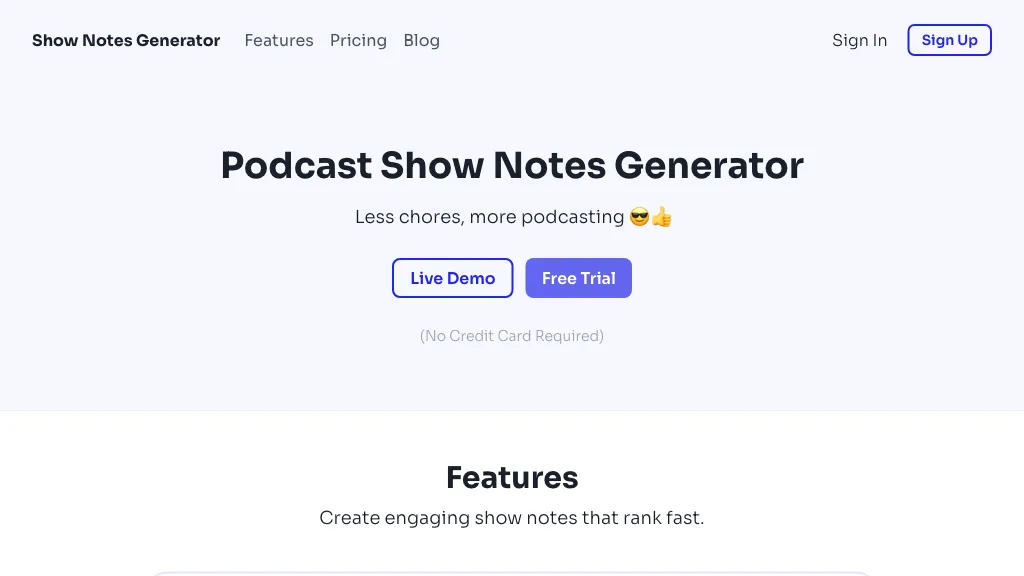 Visit Show Notes Generator's Site Save
What is Show Notes Generator? 5 3 ratings
Podcast Show Notes Generator, a tool that takes the hassle out of creating engaging show notes for your podcast episodes. With its built-in SEO optimization, this tool helps increase visibility and drive traffic to your website. It automates the process by automatically generating summaries, hashtags, timestamps, and even transcripts.

Integration with popular podcast platforms such as Apple Podcasts, Spotify, and Google Podcasts is seamless, making it easy to connect your show notes with directories. Additionally, the call-to-action generator allows you to fine-tune your show notes' style and intention, making them more engaging for your audience.

The Podcast Show Notes Generator offers multi-language support, ensuring that your show notes can reach a wider audience.

Streamline your show notes creation process and optimize them for SEO, the Podcast Show Notes Generator is the perfect solution for podcasters of all levels.
Show Notes Generator possible use cases:
Streamline show notes creation process for podcasters.
Optimize podcast show notes for SEO and increase visibility.
Automate the generation of summaries, hashtags, timestamps, and transcripts for podcast episodes.

How do you rate Show Notes Generator?
🔥
Create your account, save tools & stay updated
Receive a weekly digest of our handpicked top tools.
Unsubscribe anytime