PodPulse.ai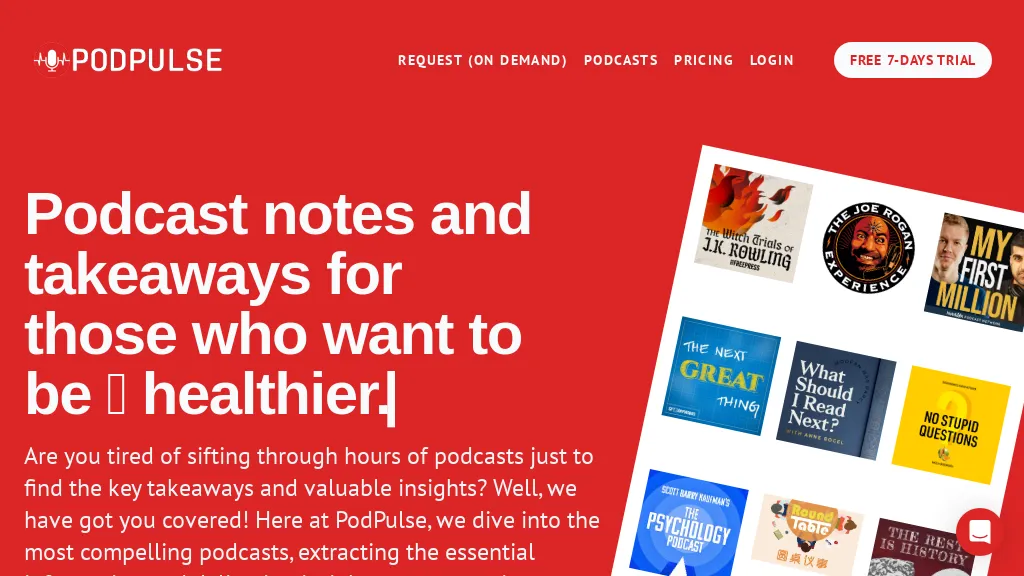 PodPulse is an AI-powered tool that transforms lengthy podcasts into concise, captivating summaries. Tired of spending hours sifting through podcasts to find the key takeaways and valuable insights? PodPulse is your ultimate companion. With a streamlined approach, it dives into compelling podcasts and extracts essential information, delivering it directly to your ears in a condensed format.

Unleash the power of AI-generated summaries that offer fair, balanced, and comprehensive grasps of podcast episodes, cutting through bias for a clear understanding. Say goodbye to fluff and filler. PodPulse laser-focuses on the heart of the content, curating key points and providing valuable references.

Turbocharge your knowledge and experience with bite-sized wisdom tailored for the modern listener. These concise summaries pack powerful insights into minutes, fueling productivity for those on-the-go lifestyles.

In addition, PodPulse improves the reading experience with its inclusive Bionic Reading® tool, providing invaluable support for users with dyslexia and ADHD, making learning engaging and accessible.

Effortlessly save, sort, and revisit the top moments of your favorite podcasts with PodPulse. Create a personalized audio library that is always at your fingertips.

For those who struggle to remember important ideas, PodPulse offers a memory-boosting feature. Receive daily brain-boosting emails that keep the best highlights in sight, preventing ideas from slipping away like a fleeting melody.
PodPulse.ai possible use cases:
Save time by getting concise summaries of podcasts.
Boost productivity with bite-sized wisdom from podcasts.
Create a personalized audio library of podcast highlights.
Receive daily brain-boosting emails with podcast highlights.
Accessible learning experience for users with dyslexia and ADHD.

How do you rate PodPulse.ai?
4.6 1 ratings
Breakdown 👇
🔥
Create your account, save tools & stay updated
Receive a weekly digest of our handpicked top tools.
Unsubscribe anytime