PixAI.ART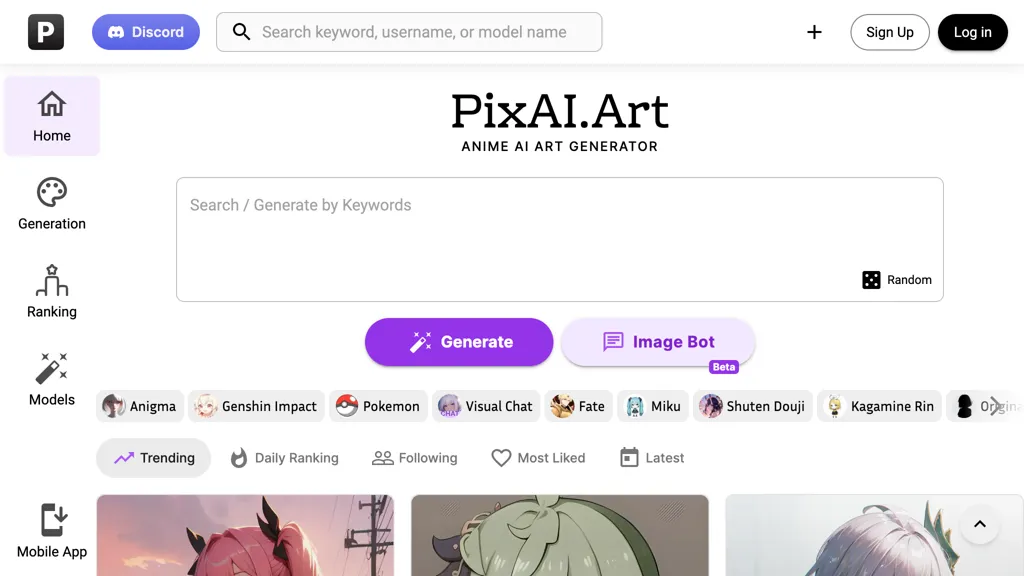 Pixai is an AI art generator tool that can generate anime-style or realistic-style art for various use cases. It offers a character engine for generating original characters, and users can also generate chat bots for Discord or visual chat applications. The tool includes various ranking models to help users discover trending and popular artwork, with daily updates for the latest creations.

Pixai supports NSFW features and allows users to create artwork related to popular anime and games such as Fate, Genshin Impact, and Konosuba. PixAI's advanced AI art generator is equipped with advanced features such as controlnet, Hires fix, LoRAs and image to image that allows users to take the most control of their image results.

Browse the PixAI model market or use one of PixAI's default models or LoRAs to achieve your desired character or style. Share your AI art or the model you trained on PixAI's platform, and browse the huge AI art archive to find inspirations, prompts, and tutorials for your next AI art challenge.
PixAI.ART possible use cases:
Generate anime-style or realistic-style art.
Create original anime characters for your videos and stories.
Generate chat characters for Discord or visual chat applications.

How do you rate PixAI.ART?
4.9 5 ratings
Breakdown 👇
🔥
Create your account, save tools & stay updated
Receive a weekly digest of our handpicked top tools.
Unsubscribe anytime