Merlin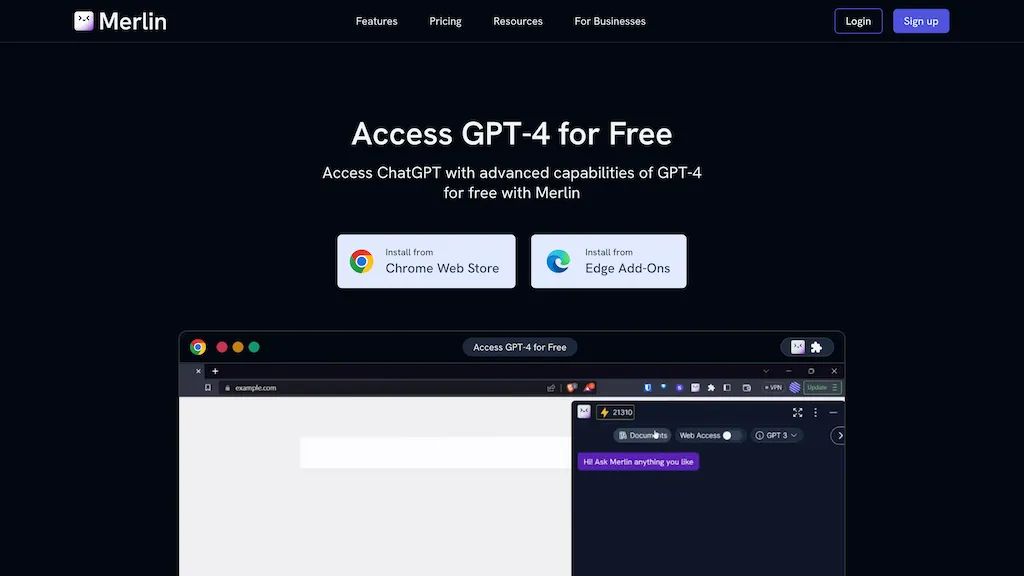 Visit Merlin's Site Save
Merlin AI helps you summarize videos, scrape websites, respond to emails, grow your social media, and more. Broadly, Merlin helps you get things done and boosts your workflows in different in 3 major ways, as follows.

1st. Summariser: Get gist of blogs, youtube videos and websites. 2nd. Content Creation: Make content for social media, emails, art, code and more. 3rd. Chat GPT Plugins: Get best plugins on browser (like Chat with PDFs, Chat with websites, Chat with web access, etc)

Your AI assistant Merlin comes with 12 in-built ChatGPT plugins that enhance your productivity already. As your assistant, Merlin AI can answer any complex questions in the sidebar. It can also help you write articles, AI Art, read articles, summarize YouTube videos, search the internet, and enhance Google and new bing search engines. Works on all websites with one click Cmd + M.

Whether you're a busy professional, a student, or just looking for ways to save time and streamline your workflow, Merlin is the perfect AI Assistant for you. It's free to download and use. Merlin AI keeps user privacy as the first priority and is SOC, GDPR, and ISO compliance as well.
Merlin possible use cases:
Effortless web articles and video content summarization.
Content creation for blogs, social media posts, emails and more.
Overall AI productivity and workflow assistant for different types of daily tasks.

🔥
Create your account, save tools & stay updated
Receive a weekly digest of our handpicked top tools.
Unsubscribe anytime