Magictool.AI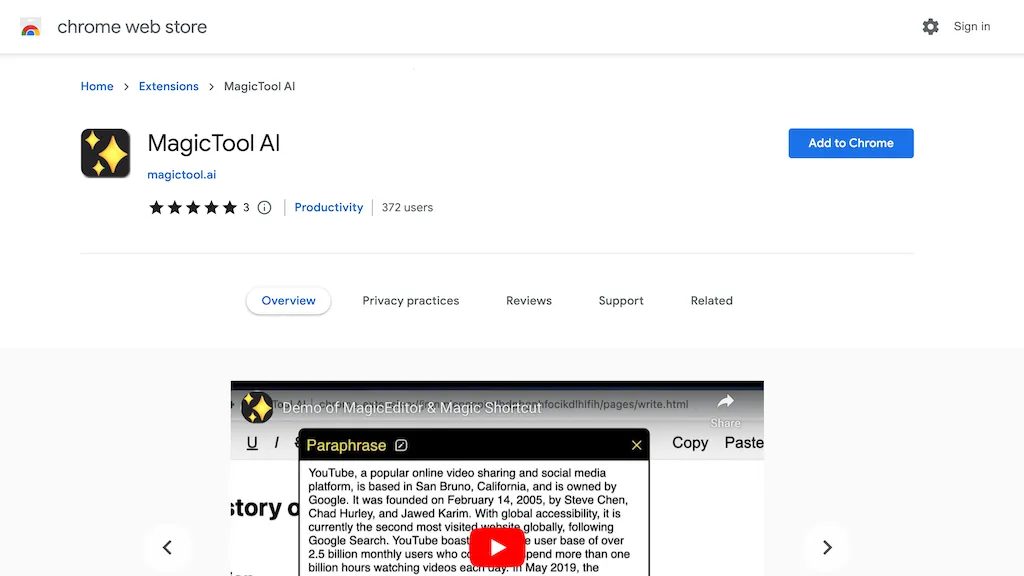 Visit Magictool.AI's Site Save
Boost your productivity with MagicTool.AI, an all-encompassing solution that bundles 20 distinct AI capabilities in one subscription. No more switching between tools – MagicTool.AI streamlines your tasks, offering multiple features under one too.

Some of the features include ChatGPT conversations, web page summarization, PDF interaction via chat, text explanations, grammar checking, text quality enhancement, language simplification, text length adjustment, content paraphrasing, information summarization, maintaining writing flow, adding emojis, Google translation, AI-generated images, note-taking, string manipulation, GPT-4 access (in Pro plans), Magic Editor, and the Magic Shortcut.

It's an ultimate all-in-one tool for writing, content creation, and workflow optimization to boost your productivity.
Magictool.AI possible use cases:
Efficient content creation and writing support.
Streamlining workflow and productivity enhancement.
Simplified interaction with PDFs and text.

How do you rate Magictool.AI?
5 0 ratings
Breakdown 👇
Magictool.AI is not rated yet, be the first to rate it
Featured Tools 🌟
✉️ Newsletter
Stay up to date with AI news, updates, discounts and more!
🔥
Create your account, save tools & stay updated
Receive a weekly digest of our handpicked top tools.
Unsubscribe anytime