Bloks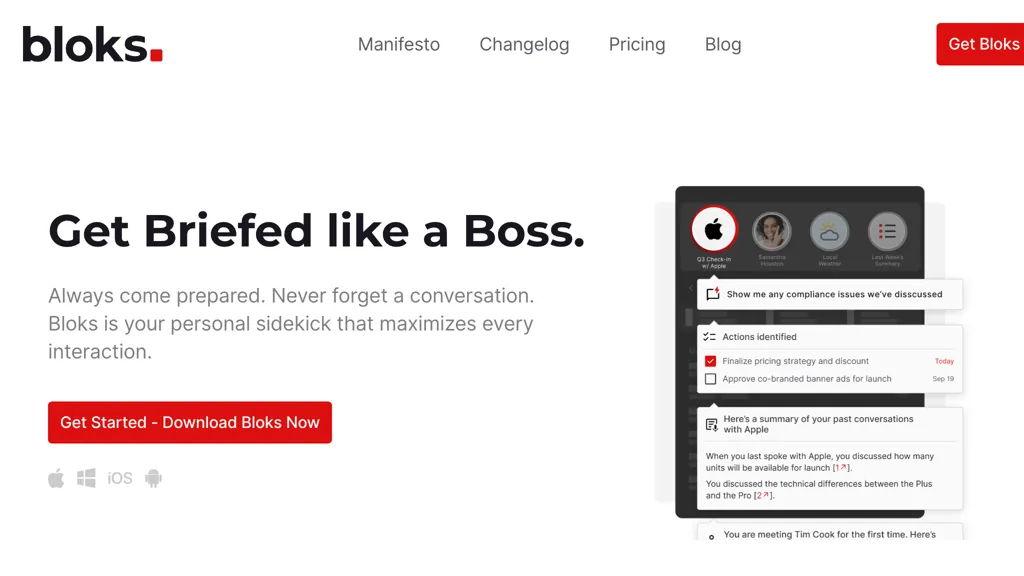 Visit Bloks's Site Save
Bloks is an AI-powered productivity assistant that helps you stay organized and get things done more efficiently. With Bloks, you can automate meeting notes, tasks, and appointments, saving you time and effort. Whether you're in an in-person meeting or using platforms like Zoom, Google Meet, Microsoft Teams, or Slack, Bloks can capture and organize all your notes and conversations with ease.

One of the main features of Bloks is its ability to generate meeting summaries and action items. It can transcribe and categorize discussions from Zoom, Google Meet, Teams, and Slack meetings, making it easy for you to review and follow up on the important points discussed. Bloks also enhances your notes by showing relevant emails, attachments, and events from your calendar, giving you a comprehensive view of everything related to a particular topic.

Bloks is designed to boost your productivity by automating tedious tasks. It can remind you of follow-ups that need to be discussed in upcoming meetings and even help you draft emails, messages, and tweets. Additionally, Bloks acts as a personal CRM, organizing information about companies, contacts, topics, and events, so you can capture and view everything in one place.

The best part is that Bloks doesn't require any intrusive bots or plugins. It's built for real people, like you, who need an extra boost to conquer their to-do lists and stay on top of their tasks. With Bloks, you can take notes without actually taking notes, thanks to its AI meeting assistant. It can identify action items discussed in meetings and transcribe conversations from video calls and in-person discussions. Bloks also provides AI-assisted tagging and categorization, making it easy to find notes, to-dos, attachments, and other relevant information.

In short, Bloks is your go-to tool for maximizing productivity.
Bloks possible use cases:
Automate meeting notes and tasks.
Organize and prioritize tasks.
Generate meeting summaries and action items.

5 0 ratings
Breakdown 👇
Bloks is not rated yet, be the first to rate it
🔥
Create your account, save tools & stay updated
Receive a weekly digest of our handpicked top tools.
Unsubscribe anytime