AskDocs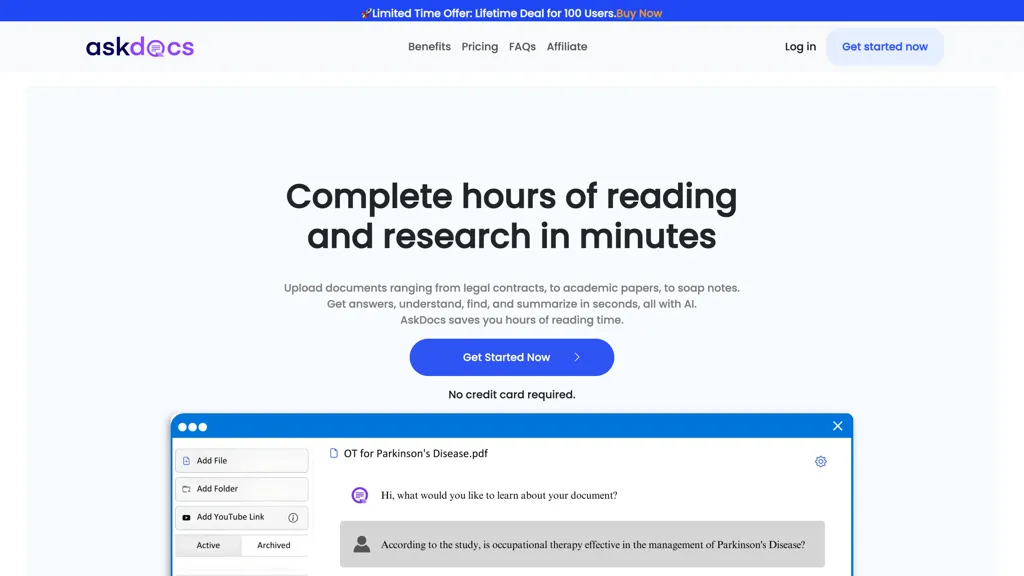 Visit AskDocs's Site Save
AskDocs allows you to complete hours of reading and research in minutes. Upload documents ranging from business processes, legal contracts, academic papers, to soap notes. AskDocs is a smart document reader that can quickly read, understand, find, and summarize information from your documents.

You can upload many common file types including PDF, DOCX, TXT, CSV, as well as YouTube links. 88% of knowledge workers believe that AI-based document processing solutions will help them save time on administrative tasks.

Key features include the ability to search across multiple documents simultaneously, ensuring efficiency in information retrieval. Every answer is accompanied by a cited source, emphasizing the accuracy and reliability of the information provided.

Importantly, AskDocs prioritizes user data security and privacy, with documents remaining exclusively accessible to the uploader and stored securely by a trusted cloud service provider.
AskDocs possible use cases:
Streamline legal contract analysis and research with document Q&A.
Accelerate academic paper review and comprehension with AI powered summarization.
Enhance medical SOAP note summarization for healthcare professionals.

5 0 ratings
Breakdown 👇
AskDocs is not rated yet, be the first to rate it
Featured Tools 🌟
✉️ Newsletter
Stay up to date with AI news, updates, discounts and more!
🔥
Create your account, save tools & stay updated
Receive a weekly digest of our handpicked top tools.
Unsubscribe anytime