Alan AI Platform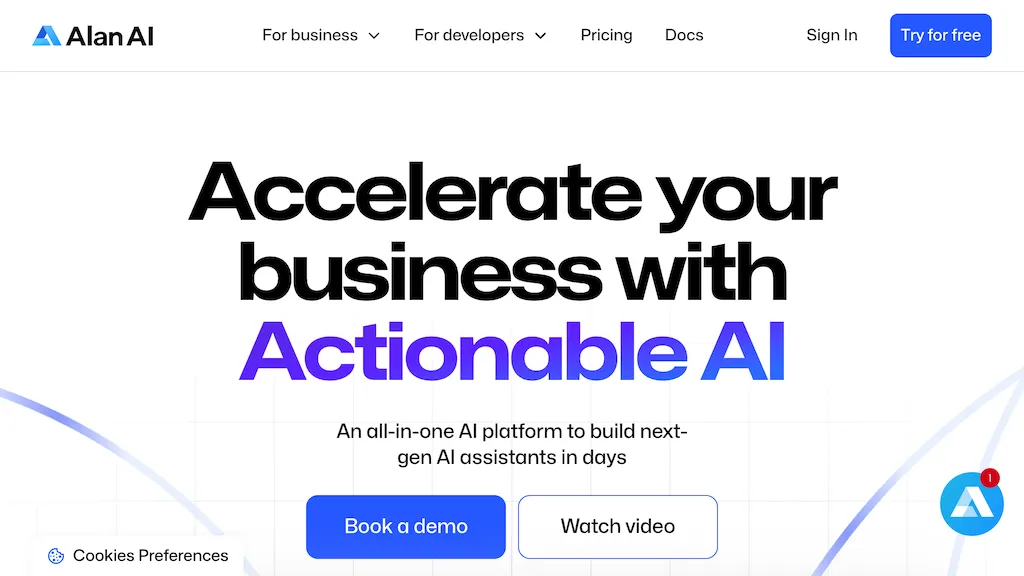 Visit Alan AI Platform's Site Save
What is Alan AI Platform? 5 1 ratings
Alan AI – An Actionable AI Assistants engineered for web and mobile applications. Alan AI is a complete Application-Level AI Technology Platform, swiftly enabling natural text and voice conversations integrated with relevant actions within hours. Our assistants do more than engage; they redefine user interaction with personalized, context-driven responses and proactive action suggestions, accelerating business processes.

Alan AI boasts an intuitive understanding of user context, including screen content, user profiles, and interaction history, serving users with seamless website navigation, form assistance, and instant access to information via advanced semantic search - all delivered conversationally in seconds. Our platform's unparalleled versatility shines across diverse sectors, including Healthcare, Government, Energy, and Education.

The team behind Alan AI holds six patents with over 20 claims on innovations in contextual language comprehension, integrated user experience for mobile/web platforms, and our user-friendly Alan AI Studio designed for private data corpus interaction alongside efficient ML/LLM operations. Experience the future of AI with Alan AI. Sign up for a free developer account at Alan AI and deploy an enterprise-grade AI Assistant today.

How do you rate Alan AI Platform?
Featured Tools 🌟
✉️ Newsletter
Stay up to date with AI news, updates, discounts and more!
🔥
Create your account, save tools & stay updated
Receive a weekly digest of our handpicked top tools.
Unsubscribe anytime