Wondershare Virbo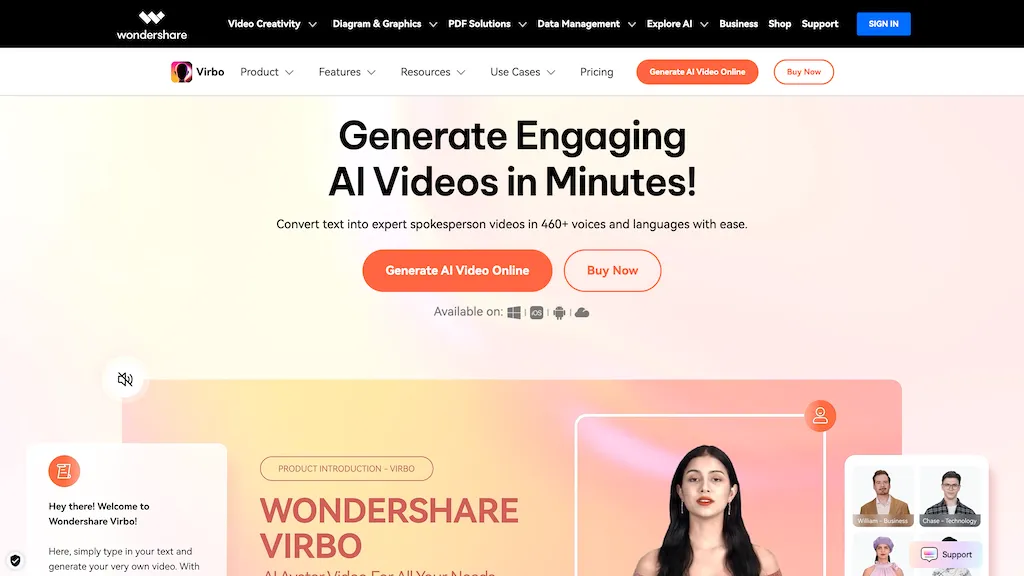 Visit Wondershare Virbo's Site Save
What is Wondershare Virbo? 5 0 ratings
Wondershare Virbo's advanced AI technology enables users to create the most realistic and personalized AI Avatar video content with diverse nationalities and languages.You can start professional AI spokesperson videos just by typing and clicking with Wondershare Virbo.

Virbo's 300+ realistic AI avatars and voices can be your engaging spokesperson, talking in 200+ languages with diverse accents for various use cases, including marketing promotion, personalized sales pitches, training and development, explainers, and how-to videos.

What's more, from marketing videos and product promotion to tutorial videos, Virbo offers a wide range of eye-catching templates to suit any purpose and deliver your message as engagingly and expressively as possible—no need for expensive and time-consuming camera crew, video agencies, or actors/actresses.
Wondershare Virbo possible use cases:
Create custom AI avatar generated video for your website.
Generate spokes person videos from text prompts.
Create videos in multiple languages to serve customers.

How do you rate Wondershare Virbo?
5 0 ratings
Breakdown 👇
Wondershare Virbo is not rated yet, be the first to rate it
Featured Tools 🌟
✉️ Newsletter
Stay up to date with AI news, updates, discounts and more!
🔥
Create your account, save tools & stay updated
Receive a weekly digest of our handpicked top tools.
Unsubscribe anytime