VideoGen.io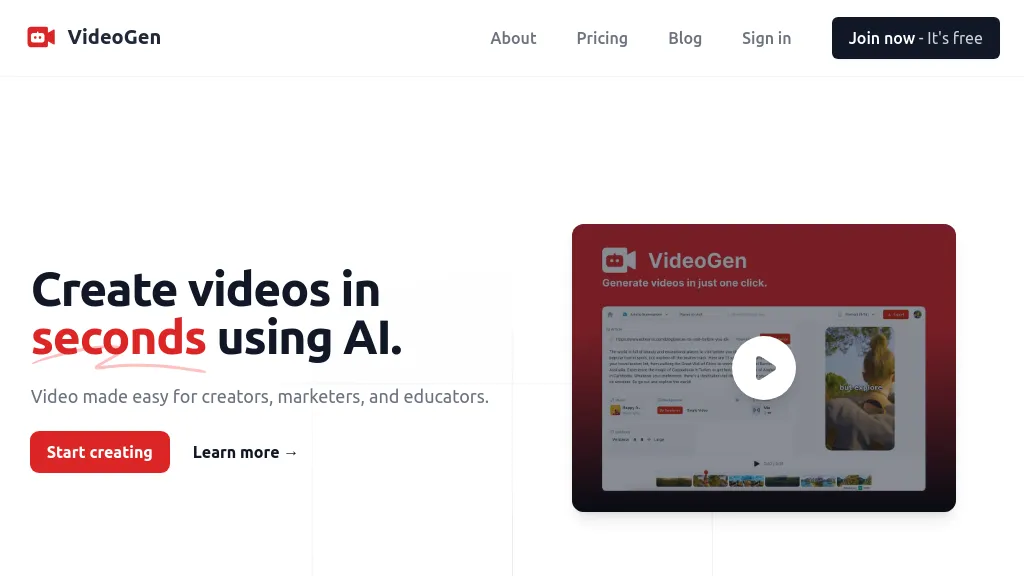 Videogen is an AI-powered video generation tool that allows anyone to create videos in seconds. It is designed to make video creation easy for creators, marketers, and educators. With Videogen, you can quickly and effortlessly create engaging content without the need to show your face, use your voice, or spend hours editing.

One of the main features of Videogen is its ability to help influencers start and grow their YouTube, TikTok, and Reels channels. It provides a way to build an audience and drive business growth through video content marketing, which has one of the highest ROIs in the industry.

Videogen is also a great tool for nonprofits and educators as it enables them to repurpose text into video, break knowledge barriers, reach a global audience, and make a greater impact.

The tool is equipped with an advanced AI technology that intelligently searches and compiles relevant clips of background video, providing access to a library of over 3 million copyright-free assets for safe commercial use. It also offers a lifelike voice synthesis experience with 150+ unique voices in 40+ languages and accents.

Overall, VideoGen makes it easy for anyone to create videos in seconds using AI. Built for content creators, business owners, self-starters, marketers, and everyone in-between, VideoGen automates the tedious aspects of creating videos: from finding and compiling stock footage to narrating and adding music. VideoGen generates videos from a single script, or even a blog posts, making it the easiest and the quickest way to start creating video content today.
VideoGen.io possible use cases:
Start and grow YouTube channels.
Create engaging content without showing face or using voice.
Repurpose text into video for nonprofits and educators.
Drive business growth through video content marketing.

How do you rate VideoGen.io?
5 0 ratings
Breakdown 👇
VideoGen.io is not rated yet, be the first to rate it
Featured Tools 🌟
✉️ Newsletter
Stay up to date with AI news, updates, discounts and more!
🔥
Create your account, save tools & stay updated
Receive a weekly digest of our handpicked top tools.
Unsubscribe anytime