Stable Diffusion Prompt Generator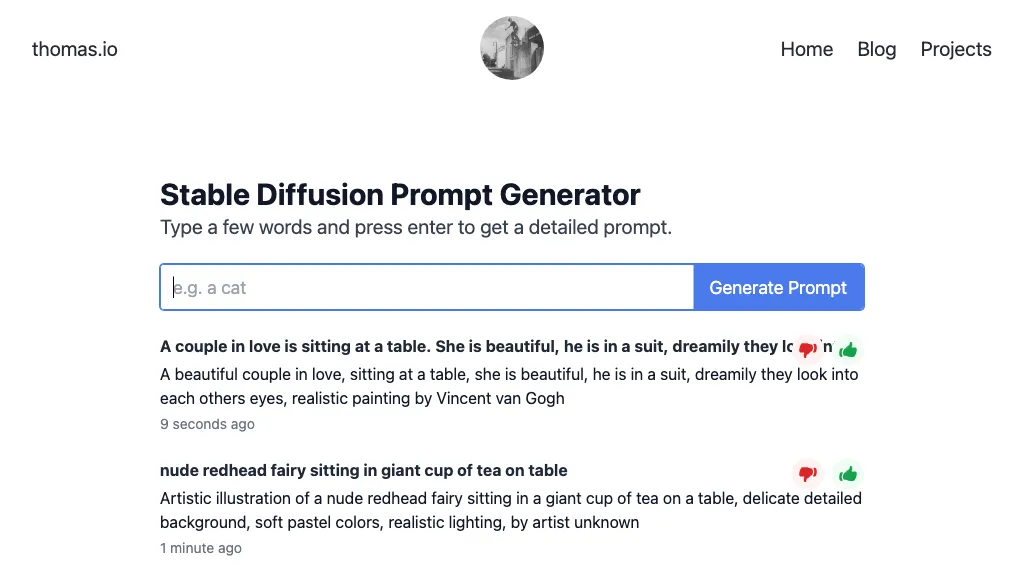 Visit Stable Diffusion Prompt Generator's Site Save
What is Stable Diffusion Prompt Generator? 5 0 ratings
The AI tool generates prompts for various types of visuals, including high-resolution photos, realist paintings, and illustrations, based on user input. It does not provide pricing information or marketing fluff. The generated visuals include a variety of themes, such as couples sitting at a table, nude fairies, city walls, plants, and cartoon characters in different styles.
Stable Diffusion Prompt Generator possible use cases:
Creating visual content for social media.
Designing book covers and illustrations.
Generating images for presentations.

How do you rate Stable Diffusion Prompt Generator?
5 0 ratings
Breakdown 👇
Stable Diffusion Prompt Generator is not rated yet, be the first to rate it
Featured Tools 🌟
✉️ Newsletter
Stay up to date with AI news, updates, discounts and more!
🔥
Create your account, save tools & stay updated
Receive a weekly digest of our handpicked top tools.
Unsubscribe anytime