SEO Writing AI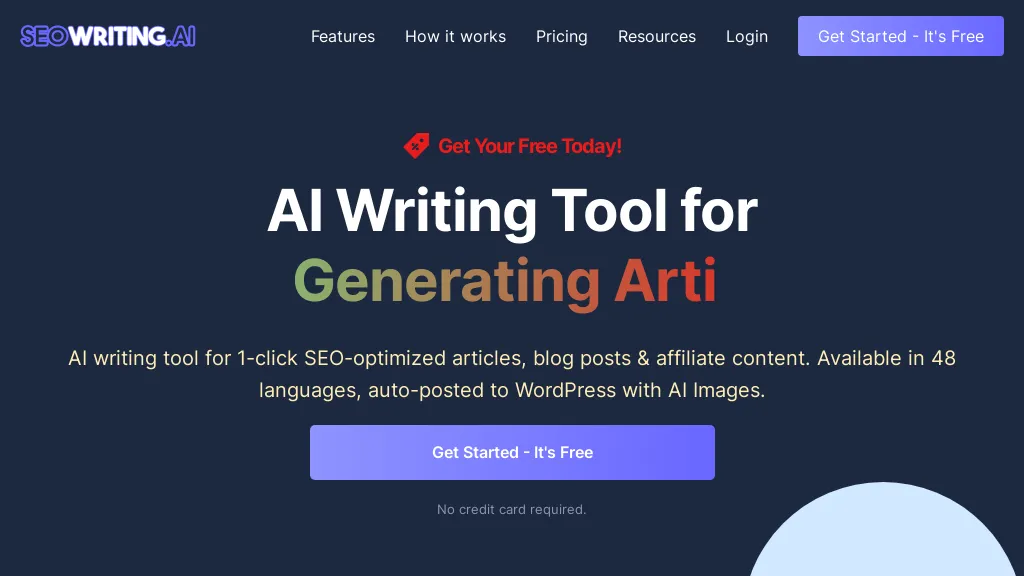 Visit SEO Writing AI's Site Save
What is SEO Writing AI? 5 0 ratings
SEO writing AI is a writing tool that focuses on generating SEO-optimized articles, blog posts, and affiliate content.It is available in 48 languages and can auto-post to WordPress with AI-generated images.

The tool is user-friendly and allows users to generate content in minutes, creating unique and highly converting articles.It can be used to create various types of long-form content, such as product roundups, product reviews, and how-to guides.

Users can enter a brief and let the AI generate detailed product listings 10x faster by entering the URLs of the products they want to list in the article.The platform is easy to use: choose the type of content you want to write, enter the required information, and generate a new document using the special editor.

Users can also view and perform various actions on their documents, such as creating, editing, searching, and deleting.seowriting.ai also offers an add-on for adding Amazon products to create better product descriptions and promote affiliate websites.

Overall, seowriting.ai saves time and money in content writing by providing AI-powered templates for generating high-quality, SEO-optimized content.It is suitable for bloggers, entrepreneurs, and marketers who aim to rank their content on Google's first page.


SEO Writing AI possible use cases:
Generate SEO-optimized articles for your business.
Create affiliate content for you affiliate marketing site.
Optimize content for search results automatically.

How do you rate SEO Writing AI?
5 0 ratings
Breakdown 👇
SEO Writing AI is not rated yet, be the first to rate it
Featured Tools 🌟
✉️ Newsletter
Stay up to date with AI news, updates, discounts and more!
🔥
Create your account, save tools & stay updated
Receive a weekly digest of our handpicked top tools.
Unsubscribe anytime