QRCraft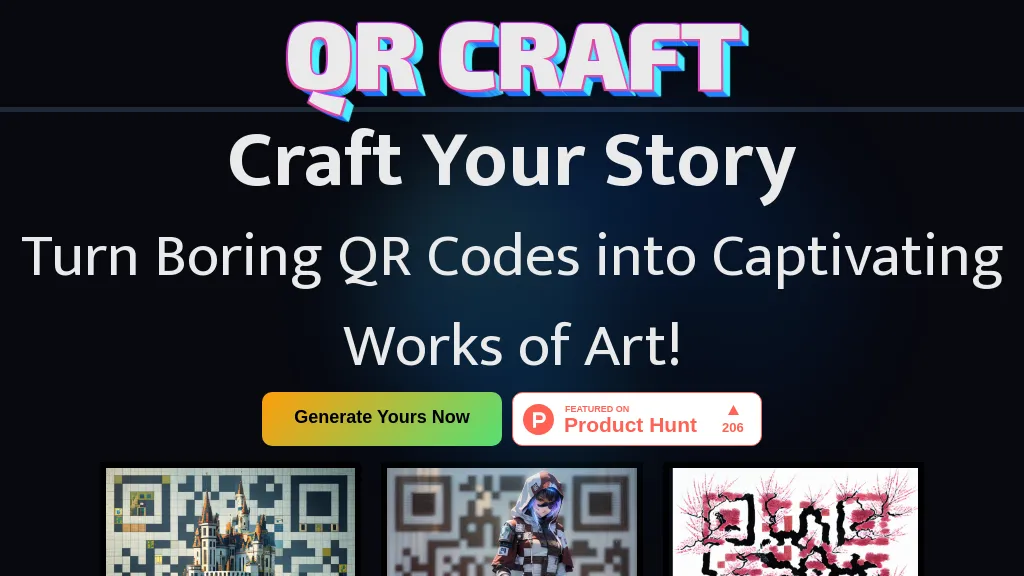 Visit QRCraft's Site Save
QRCraft is an AI tool that transforms ordinary QR codes into captivating works of art. With QRCraft, you can generate artistic QR codes that not only attract a lot of attention but also set you apart from the crowd. Whether you're a club owner looking to make your posters extraordinary or a restaurant owner wanting to add a personalized touch to your menu items, QRCraft has got you covered.

Customizing QR codes with QRCraft is easy and fun, thanks to its user-friendly interface. People will be amused when they scan your QR codes and instantly check out your works. In the unlikely event that a QR code scan doesn't work, QRCraft provides tweaking parameters to help ensure successful scans.

QRCraft can handle bulk orders and enterprise-level requests, so if you need to place a large order, simply reach out to them via the inquiry email. The generated QR codes have dimensions of 768x768 pixels and are delivered in PNG format. If you're interested in integrating QRCraft into your app or product, they also provide API access.

Transform your QR codes into mini art pieces with QRCraft and create an interactive and personalized experience for your customers.
QRCraft possible use cases:
Create unique QR codes for posters and menus.
Add personalized touch to QR codes.
Integrate QR custom designed codes into apps or products.

5 0 ratings
Breakdown 👇
QRCraft is not rated yet, be the first to rate it
Featured Tools 🌟
✉️ Newsletter
Stay up to date with AI news, updates, discounts and more!
🔥
Create your account, save tools & stay updated
Receive a weekly digest of our handpicked top tools.
Unsubscribe anytime