Mano AI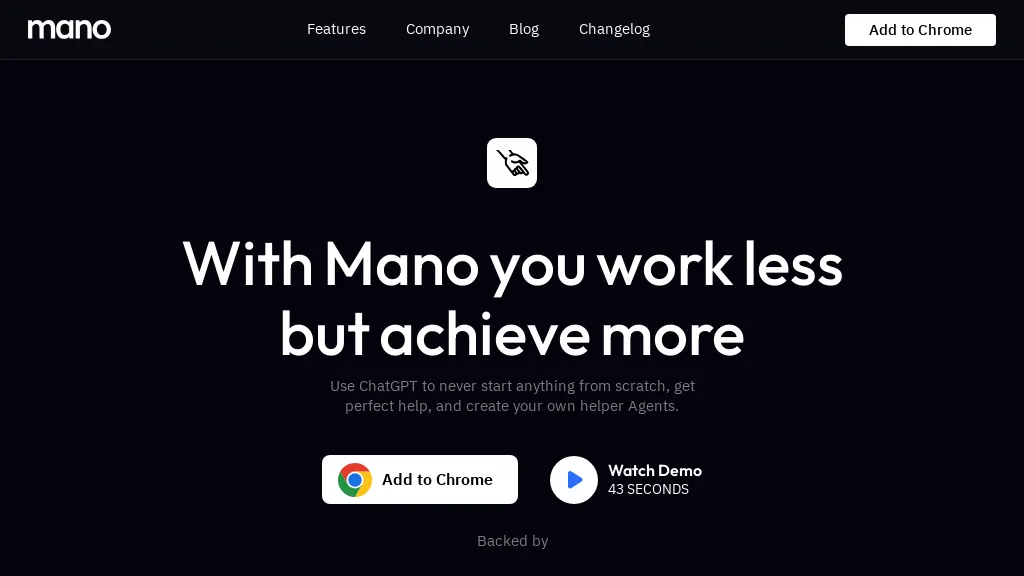 Visit Mano AI's Site Save
Mano AI is an AI-powered tool that aims to make your workday easier and more productive by automating many of your daily tasks via chatGPT. With its shortcut feature, users can access the tool quickly and effortlessly by using the "option + alt + m" keyboard shortcut on Windows.

The main features of Mano AI include the ability to create helper agents, automate tasks, and save time. By using Mano AI, you can avoid starting from scratch and get perfect help on every task you do. It eliminates mindless work such as reading endless text and drafting repetitive emails, saving you valuable time.

Mano AI provides a variety of useful prompts and one-click actions that can help you feel 3 times more productive. It reduces the need for constant context switching by bringing AI workflows directly to you, eliminating the cognitive dissonance caused by switching tabs.

With Mano AI, you can automate up to 26 tasks, thanks to its powerful agents. These agents can curate custom prompts and assist you in various tasks such as summarizing articles, asking questions, and explaining complicated topics. Mano AI offers a range of pricing plans to fit every budget, whether you're a solo professional, small business, or large corporation.

Overall, Mano AI is a powerful tool that guarantees to save you time and boost your productivity. Its user-friendly interface and expertly curated agents make it easier than ever to streamline your tasks and work more efficiently.
Mano AI possible use cases:
Create helper agents.
Automate tasks.
Save time.

5 0 ratings
Breakdown 👇
Mano AI is not rated yet, be the first to rate it
Featured Tools 🌟
✉️ Newsletter
Stay up to date with AI news, updates, discounts and more!
🔥
Create your account, save tools & stay updated
Receive a weekly digest of our handpicked top tools.
Unsubscribe anytime