Kreado AI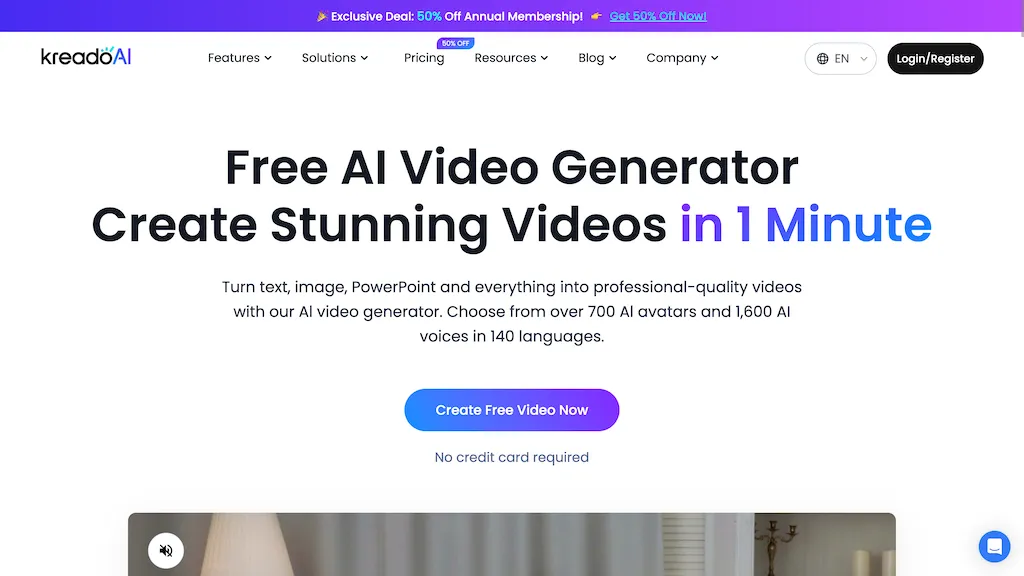 KreadoAI is an AI video creation platform that allows users to create digital human videos quickly and easily.With a wide range of digital human images of different ages, colors, and professions, KreadoAI caters to various application scenarios.

Users can convert text into human-like AI voices with diverse languages to bring their videos to life.The platform offers over 140 languages, including Chinese, English, Portuguese, Hindi, and Indonesian, with freely selectable voices.

Additionally, KreadoAI allows users to replicate human expressions 1:1 and even substitute human cameras with AI to create realistic video content.By using AI voice cloning, users can replicate human-like voices and tonalities, resulting in zero production costs.

With the capability of generating high-converting advertising copy in local marketing characteristics, KreadoAI's AI marketing copywriting feature enhances the effectiveness of ad campaigns.The platform also offers AI image processing for automatic recognition and the removal of image backgrounds in seconds.

Another noteworthy feature of KreadoAI is the AI face swap tool, which enables the replacement of people's heads in images and videos, generating realistic and copyright-free portrait images.With these advanced AI capabilities, KreadoAI aims to simplify the marketing creative process, reduce production costs, and drive better results in various marketing scenarios.
Kreado AI possible use cases:
Create digital human videos for marketing campaigns.
Generate AI voices for videos.
Replicate human expressions and create realistic video content.

How do you rate Kreado AI?
4.7 8 ratings
Breakdown 👇
Featured Tools 🌟
✉️ Newsletter
Stay up to date with AI news, updates, discounts and more!
🔥
Create your account, save tools & stay updated
Receive a weekly digest of our handpicked top tools.
Unsubscribe anytime