JobCopy.io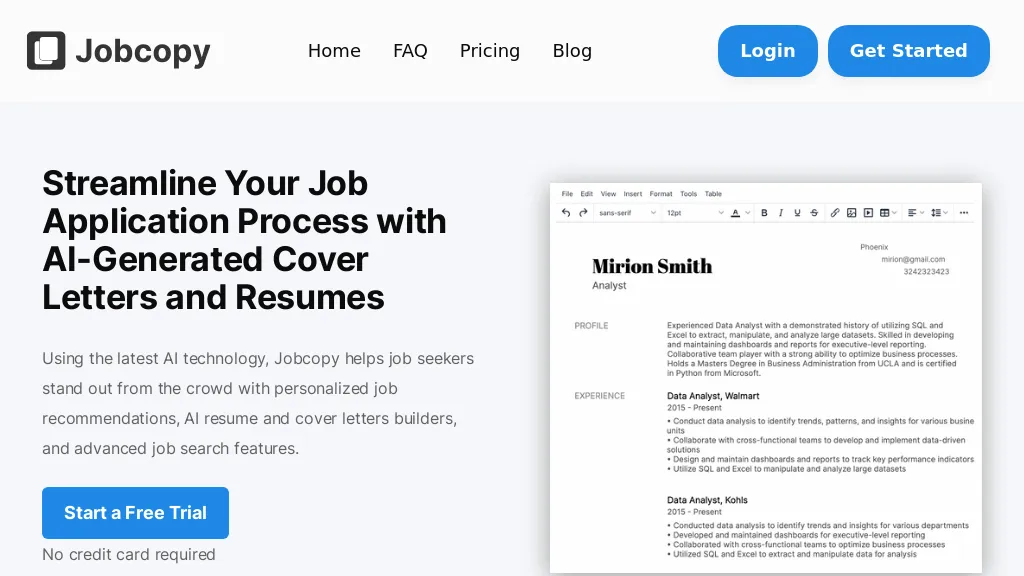 Jobcopy is an AI-powered tool that streamlines the job application process by providing personalized job recommendations, AI-generated resumes and cover letters, and advanced job search features. With Jobcopy, job seekers can create professional resumes and cover letters in seconds, generate personalized interview questions and answers, and track their job applications in one place.
JobCopy.io Highlights:
✅AI Resume Builder: Create professional resumes in seconds.
✅AI Cover Letters: Generate ready-to-use cover letters.
✅Interview Prep: Personalized interview Q&As.
✅AI Job Search: Summarize job descriptions and more.
✅Job Tracking: Keep track of job applications.

JobCopy.io possible use cases:
Job Seeker with Limited Time: Create professional resumes and prepare for interviews quickly..
Experienced Professionals: Craft the perfect resume to move up within your field of work..
Career Changers: Showcase transferable skills for new job roles..
Remote Workers: Stand out from other applicants vying for similar remote positions..

How do you rate JobCopy.io?
4.8 2 ratings
Breakdown 👇
🔥
Create your account, save tools & stay updated
Receive a weekly digest of our handpicked top tools.
Unsubscribe anytime