HappyChat AI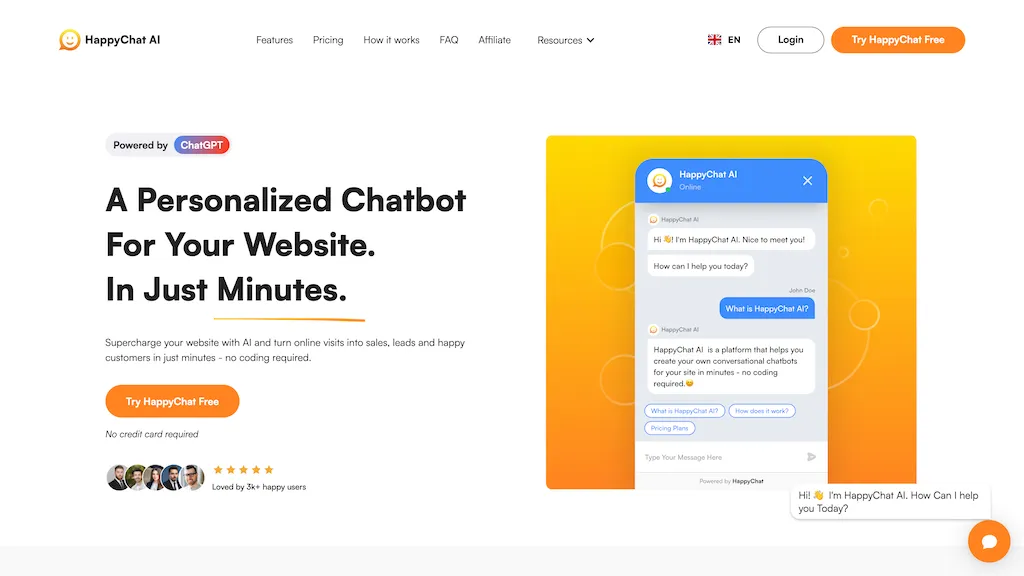 Visit HappyChat AI's Site Save
HappyChat AI is an AI-powered tool that helps you create and launch chatbots for your site in minutes.HappyChat can help in converting website traffic into sales, leads, and satisfied customers without technical skills.

HappyChat offers seamless content accessibility, enabling chatbots to access and reference uploaded documents or linked content during interactions.You can also customize the chatbot's appearance to align with your brand, ensuring a consistent user experience across your online presence.

Leveraging conversational AI, the chatbots engage in human-like conversations, providing precise responses.Additionally, the HappyChat facilitates proactive visitor engagement through personalized welcome messages, transforming casual visits into valuable opportunities.
HappyChat AI possible use cases:
Engage Prospective Customers: Initiate proactive conversations with website visitors, answering queries and guiding them toward making informed decisions.
24/7 Customer Support: Offer instant answers to customer questions at any time, ensuring a reliable and consistent support experience..
Multilingual Chat: Establish cross-language communication by uploading an English knowledge base, enabling seamless interaction with global users.

How do you rate HappyChat AI?
5 0 ratings
Breakdown 👇
HappyChat AI is not rated yet, be the first to rate it
🔥
Create your account, save tools & stay updated
Receive a weekly digest of our handpicked top tools.
Unsubscribe anytime