Triple Whale's GPT Marketing Prompt Generator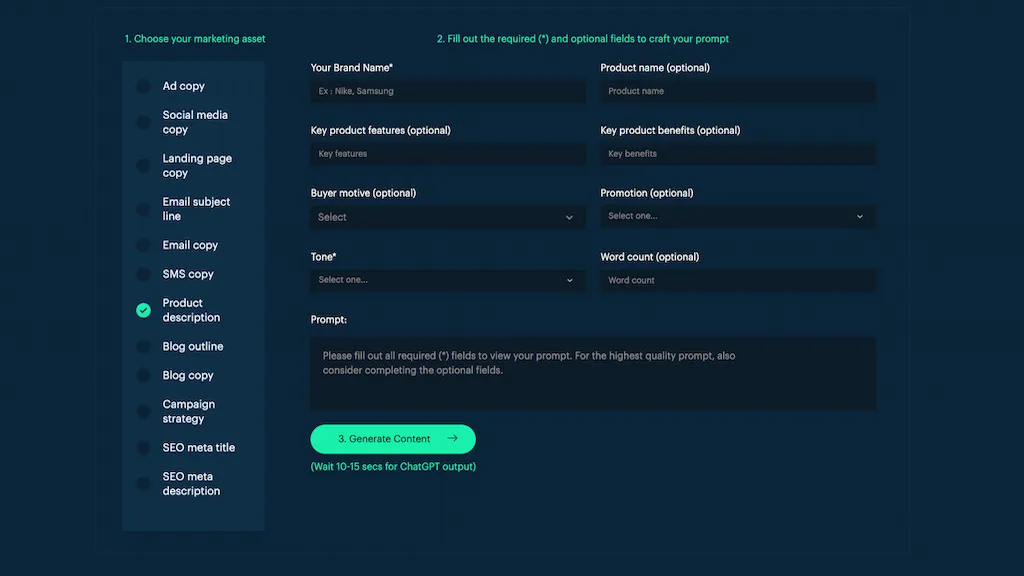 Visit Triple Whale's GPT Marketing Prompt Generator's Site Save
What is Triple Whale's GPT Marketing Prompt Generator? 5 1 ratings
Triplewhale marketing prompt generator is a prompt generator that will help you craft and optimize your marketing related prompts to take your branding to the next level. They are trying to solve the challenge brands were facing with ChatGPT, by a tool to help all brands get more value from ChatGPT.

Triple Whale's ChatGPT Prompt Generator works in 3 easy steps. Step 1, choose your marketing asset (12 options). Step 2, fill out the fields to build your prompt. Step 3, generate your marketing content.

This a tool that will just help you to get the best out of chatGPT for your marketing needs and copy, be it on social media or your landing page.
Triple Whale's GPT Marketing Prompt Generator possible use cases:
Create effective prompts for chatGPT to generate your best marketing assets.
Write compelling product descriptions for our e-commerce site.
Optimize customized and tailored prompts for your marketing needs on social media, ad copy and landing pages.

How do you rate Triple Whale's GPT Marketing Prompt Generator?
Featured Tools 🌟
✉️ Newsletter
Stay up to date with AI news, updates, discounts and more!
🔥
Create your account, save tools & stay updated
Receive a weekly digest of our handpicked top tools.
Unsubscribe anytime