GoPDF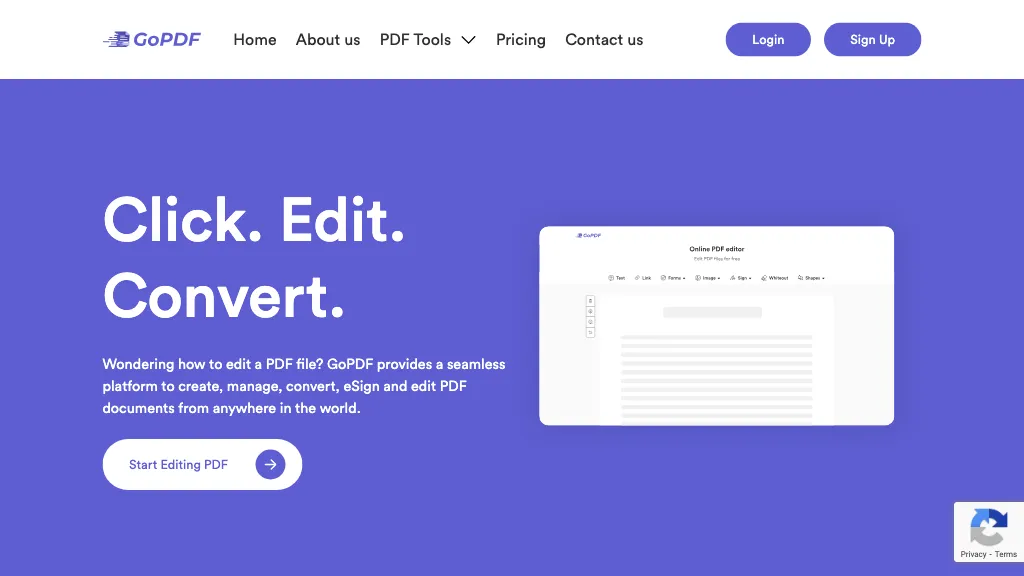 Visit GoPDF's Site Save
GoPDF is a comprehensive online PDF tool that allows users to seamlessly interact with, create, edit, convert, and e-sign PDF documents from anywhere in the world with AI driven features.With its features, GoPDF increases productivity by enabling users to change texts and create PDFs in a single page.

It also offers tools to compress, merge, and protect online documents, providing users with a streamlined experience.Whether you need to convert PDFs to Word documents, compress file sizes, merge multiple PDFs into a single document, or add personalized encryption to your files, GoPDF has you covered.

Its fill and sign feature allows you to create personalized and professional files by manually adding image signatures.Additionally, GoPDF enables users to search and replace text in documents using shortcuts, making editing documents a breeze.

The tool also provides a crop feature that allows users to create neater-looking PDFs by either cropping the entire document or specific phrases.With a focus on user-friendly design and intuitive controls, GoPDF offers a seamless user experience, maximizing productivity.
GoPDF possible use cases:
Create and edit PDF documents.
Convert PDFs to Word documents or documents.
Compress and merge multiple PDFs with different styles.
Add personalized encryption to PDF files.
Fill and sign PDF documents.

Featured Tools 🌟
✉️ Newsletter
Stay up to date with AI news, updates, discounts and more!
🔥
Create your account, save tools & stay updated
Receive a weekly digest of our handpicked top tools.
Unsubscribe anytime