Flot.ai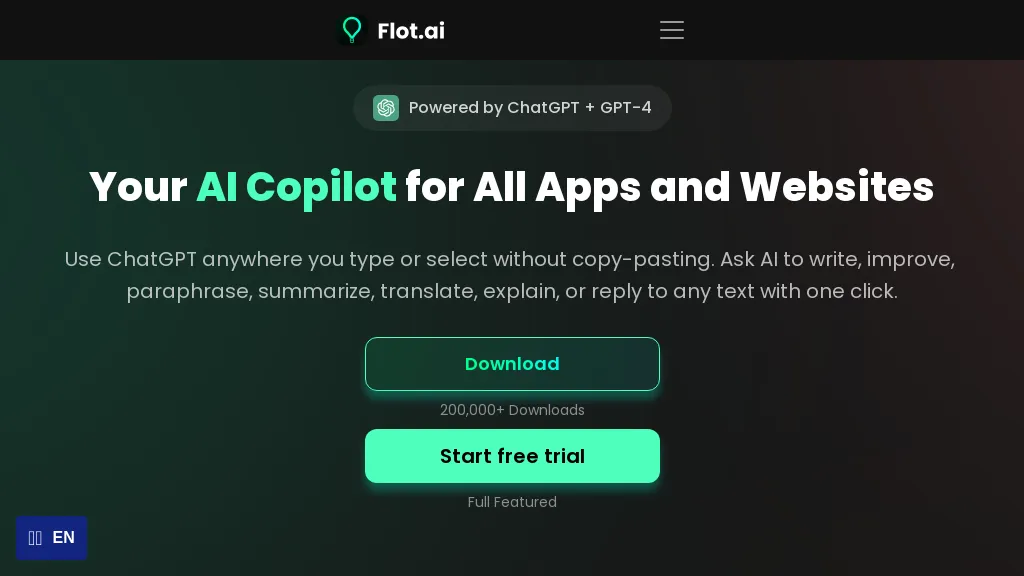 Visit Flot.ai's Site Save
Flot.ai is an AI tool designed to be your copilot in apps and websites. Powered by ChatGPT and GPT-4, it allows you to use ChatGPT anywhere without copy-pasting. With Flot.ai, you can ask AI to write, improve, paraphrase, summarize, translate, explain, and reply to text with just one click. It offers full featured availability across Windows, MacOS, iOS, and Android devices.

Flot.ai provides unparalleled flexibility and functions universally. It fits right into your workflow, making it an ultimate AI copilot for any app or website. Whether you're using it in apps, browsers, email clients, or document tools, Flot.ai offers support. It is like having Notion AI at your fingertips, with the flexibility to use it on any computer.

Overall, flot.ai is a powerful AI tool that serves as your reliable copilot for apps and websites, offering a wide range of features to enhance your productivity and creative process.
Flot.ai possible use cases:
Improve your workflows with an AI assistant available anywhere.
Improving grammar and writing work.
Boost productivity when browsing the web or using Apps.
Generate summaries or write emails and more any where.

🔥
Create your account, save tools & stay updated
Receive a weekly digest of our handpicked top tools.
Unsubscribe anytime