Fineshare FineCam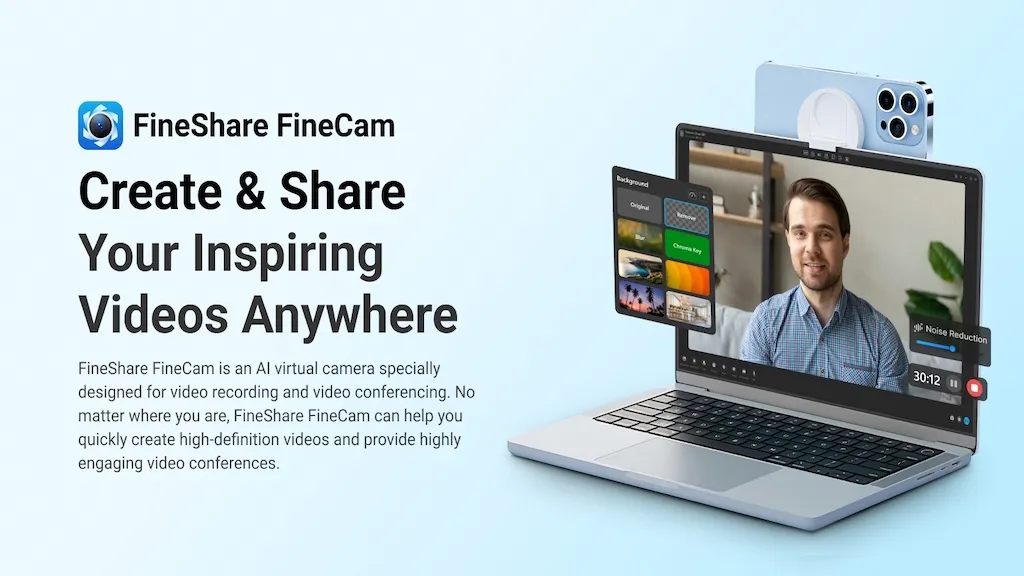 Visit Fineshare FineCam's Site Save
What is Fineshare FineCam? 5 0 ratings
FineShare FineCam is an AI virtual camera specially designed for video recording and video conferencing. No matter where you are, FineShare FineCam can help you quickly create high-definition videos and provide highly engaging video conferences. FineShare FineCam also offers real-time AI background removal, AI audio enhancer, video enhancement, and smart portrait mode to make your video look better. Besides, FineShare FineCam allows you to use your phone as a high-definition webcam and supports connecting and enhancing other cameras, including digital cameras, DSLR cameras, action cameras, external webcams, or integrated webcams.

It lets you share your iPhone screen, application windows, YouTube videos, webpages, PowerPoint slides, videos, and photos in real time and enables you to communicate your ideas to others effectively and make your video look more professional. FineShare collaborates with Unsplash to provide millions of stunning backgrounds and offers different free themes. You can start your video calls, online courses, product demos, and tutorial recordings in seconds. With FineShare FineCam, you can capture everything and record all the highlights without lag.

The segment recording and project saving features enable you to record video in smaller segments, breaking free from the constraints of lengthy, uninterrupted video recordings. Furthermore, it's compatible with all your favorite video calling, video editing, and streaming applications, such as Zoom, Microsoft Teams, Twitch, OBS, Adobe Premiere Pro, YouTube, etc. By using FineShare FineCam AI virtual camera, you can say goodbye to low-quality video and embrace a seamless, professional video experience.
Fineshare FineCam Highlights:
✅ Use Phone as HD Webcam.
✅ Real-time AI background removal .
✅ Use Voice AI to remove noise.
✅ Connect any camera.
✅ Connect to your favorite platforms .
✅ Say goodbye to long-time single recording.
✅ Video enhancement.
Fineshare FineCam possible use cases:
Online Teaching: Teachers can use FineCam to make their online classes more engaging and interactive..
Online Meetings: Remote teams can use FineCam to collaborate effectively and stay connected, no matter where they are located..
Product Demo: Salespersons can use FineCam to deliver dynamic and effective product demos to potential customers..
Telemedicine: Doctors can use FineCam to deliver high-quality virtual consultations to patients who are unable to visit in-person. .
Content Creation: Influencers and content creators can use FineCam to elevate their video content and engage with their followers..
Live Stream: Streamers can use FineCam to deliver high-quality live streams that engage and entertain their audiences. .

How do you rate Fineshare FineCam?
5 0 ratings
Breakdown 👇
Fineshare FineCam is not rated yet, be the first to rate it
🔥
Create your account, save tools & stay updated
Receive a weekly digest of our handpicked top tools.
Unsubscribe anytime