Feedeo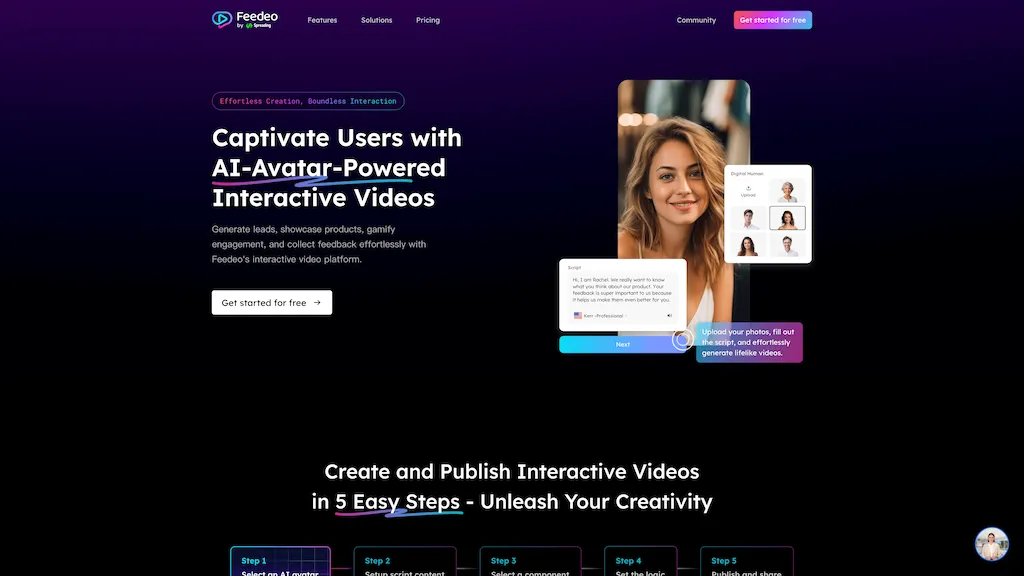 Visit Feedeo's Site Save
Feedeo is an AI-powered tool that creates interactive videos with real or cartoon characters in minutes.No need for expensive spokespersons - lifelike avatars create a professional and engaging effect on your website, social media, and EDM.

With a focus on simplicity, users can captivate audiences by effortlessly generating lifelike videos in five easy steps: selecting an AI avatar, setting up script content, choosing components, defining logic, and publishing.

The platform offers rich components for interactive user feedback collection.
Feedeo Highlights:
✅ Marketing: NPS survey, lead generation, customer support.
✅ Sales: Contact form, email campaign.
✅ Recruitment: Candidate screening, satisfaction survey.
✅ E-commerce: Video FAQ, customer feedback survey.
✅ Education: Course evaluation
Feedeo possible use cases:
Enhancing marketing effectiveness with interactive videos with avatars.
Revolutionizing sales outreach with creative interactive videos.
Boosting student engagement on education platforms and courses.

4.9 3 ratings
Breakdown 👇
🔥
Create your account, save tools & stay updated
Receive a weekly digest of our handpicked top tools.
Unsubscribe anytime