EmoGPT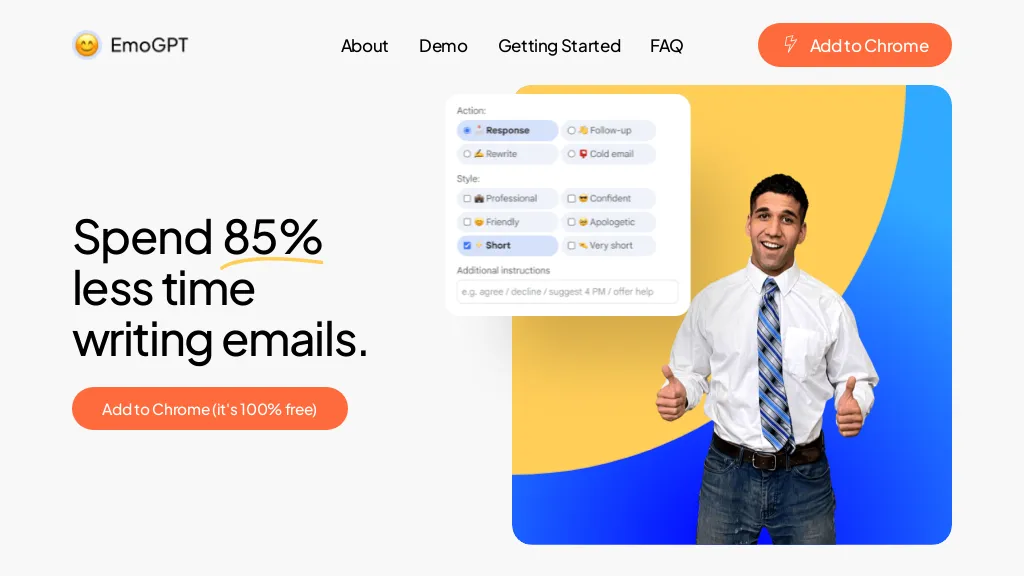 Visit EmoGPT's Site Save
Emogpt is a free AI-powered Google Chrome extension designed for Gmail users to generate high-quality emails with ease and efficiency. The tool is powered by OpenAI's chatGPT, ensuring data privacy and security. Emogpt provides a secure and user-friendly interface that prioritizes privacy and stores settings locally on the browser. Users can install the extension from the Chrome web store and choose whether to use a chatGPT account API key.

Emogpt features a smiling emoji button that appears in the toolbar of the email window, allowing users to quickly generate new emails based on their personalized preferences. The tool leverages the power of AI to automate email writing, from replies to follow-ups and even cold outreach emails, reducing the time users spend writing emails by up to 85%. While the tool is free, the team may consider adding advanced features that require additional resources for team collaboration in the future.
EmoGPT possible use cases:
Automated email writing and replies using a tone ands style.
Save time on email replies by having the tool write the replies for you based on context and style.
Automating and personalizing cold outreach emails.

5 0 ratings
Breakdown 👇
EmoGPT is not rated yet, be the first to rate it
🔥
Create your account, save tools & stay updated
Receive a weekly digest of our handpicked top tools.
Unsubscribe anytime