DailyBot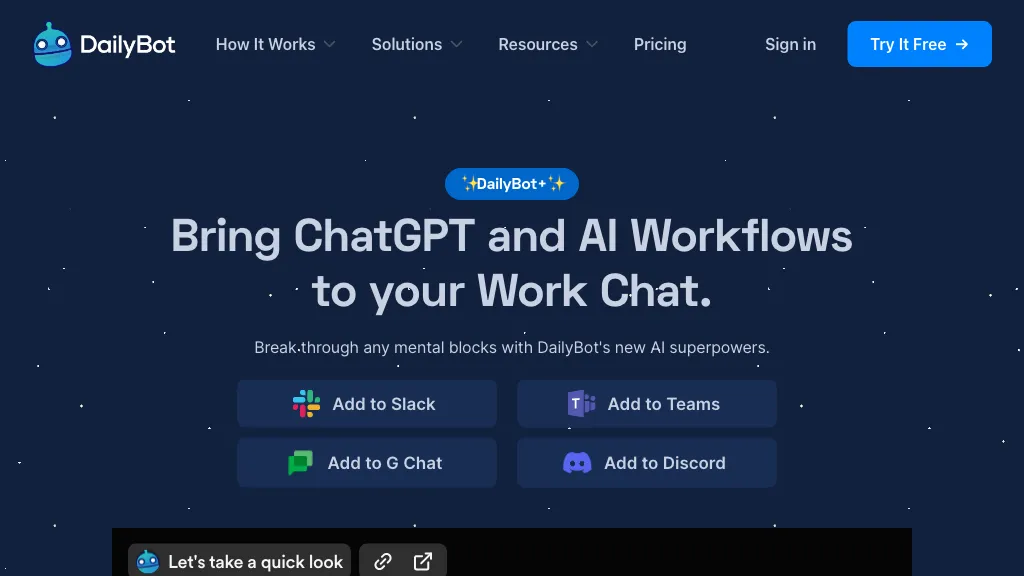 The AI tool, Dailybot, is an AI-powered chat assistant that offers workflow automation, check-ins, standups, retro reports, kudos and recognition rewards, mood and team morale tracking, and various fun add-ons for improved communication and team spirit. It also provides video tutorials and solutions for remote and agile teams, social wellness, market automation, and team onboarding. Dailybot integrates with popular platforms and provides quick start guides, automation solutions, and resources to improve productivity and teamwork while reducing stress and burnout.
DailyBot possible use cases:
Automated check-ins for remote teams.
Mood tracking for team morale.
Onboarding and training for new team members.

How do you rate DailyBot?
5 0 ratings
Breakdown 👇
DailyBot is not rated yet, be the first to rate it
🔥
Create your account, save tools & stay updated
Receive a weekly digest of our handpicked top tools.
Unsubscribe anytime