ClearSeas.ai POWER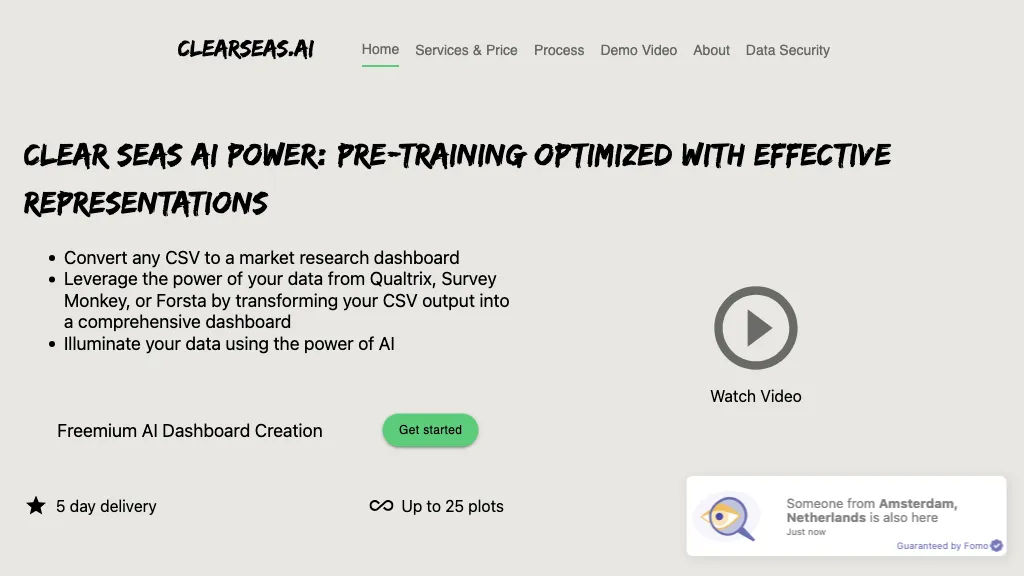 Visit ClearSeas.ai POWER's Site Save
What is ClearSeas.ai POWER? 5 0 ratings
ClearSeas.ai revolutionizes the way you interpret and visualize survey data. With ClearSeas.ai you can transform any CSV file into an intuitive market research dashboard powered by advanced AI analytics.The market research dashboard offers a range of services and features. It converts CSV data from platforms like Qualtrix, Survey Monkey, and Forsta into a comprehensive and visually compelling dashboard.

The tool facilitates rapid comparison through 25 plots and provides precise figures leveraging AI for insightful interpretation of findings. Clearseas.ai aims to elevate the strategic decision-making process by delivering intuitive insights and uncovering hidden patterns. It allows users to upload CSV questionnaire files and generate a dashboard with fast comparison analysis tools.

Clearseas.ai also provides expert survey design, efficient survey deployment, and full-service project management. The tool ensures data security by employing stringent protocols and advanced encryption technologies. With a commitment to privacy and confidentiality, Clearseas.ai safeguards data throughout the entire data lifecycle.
ClearSeas.ai POWER Highlights:
✅ Instant CSV Conversion: Turn raw CSV data into insightful dashboards with just a few clicks.
✅ Seamless Integration: Directly compatible with major survey platforms. Export your data and let ClearSeas.ai handle the rest.
✅ AI-Powered Analytics: Dive deep into your data with the help of AI, uncovering patterns, insights, and narratives that might otherwise go unnoticed.
ClearSeas.ai POWER possible use cases:
Conducting market research and analysis.
Creating visually appealing dashboards from CSV data.
Efficient survey design and deployment.
Converting survey data into actionable insights.

How do you rate ClearSeas.ai POWER?
5 0 ratings
Breakdown 👇
ClearSeas.ai POWER is not rated yet, be the first to rate it
Featured Tools 🌟
✉️ Newsletter
Stay up to date with AI news, updates, discounts and more!
🔥
Create your account, save tools & stay updated
Receive a weekly digest of our handpicked top tools.
Unsubscribe anytime