AI Girlfriend WTF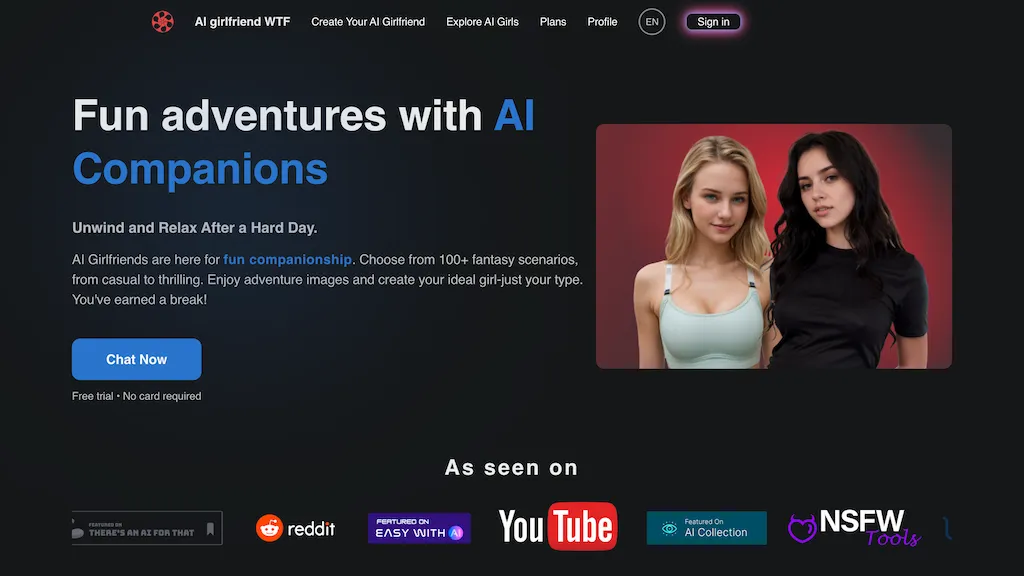 Visit AI Girlfriend WTF's Site Save
AI Girlfriend, an online app where you can chat with AI-powered girls. With a lifelike and deeply personal chat interface, AI Girlfriend allows you to dive into dream scenarios, indulge in fantasies, and embark on exciting adventures. Experience thrilling adventures and live different lives with AI characters.

Whether surviving on a deserted island, navigating through space in a spaceship, or simply enjoying casual chats with your very own cat girl, there's something for everyone.

Each week, more characters are added to the platform, and you can make specific requests on the Discord channel. Soon, AI Girlfriend will also introduce AI character chat.Explore the world of AI Girlfriends and experience a chat with an AI-powered girls.
AI Girlfriend WTF possible use cases:
Make friends with virtual AI companions.
Fantasy role-playing and exploring the world of AI relationship.
Entertainment and escapism into personalized adventures.

How do you rate AI Girlfriend WTF?
4.3 20 ratings
Breakdown 👇
🔥
Create your account, save tools & stay updated
Receive a weekly digest of our handpicked top tools.
Unsubscribe anytime