AcademicHelp AI Writer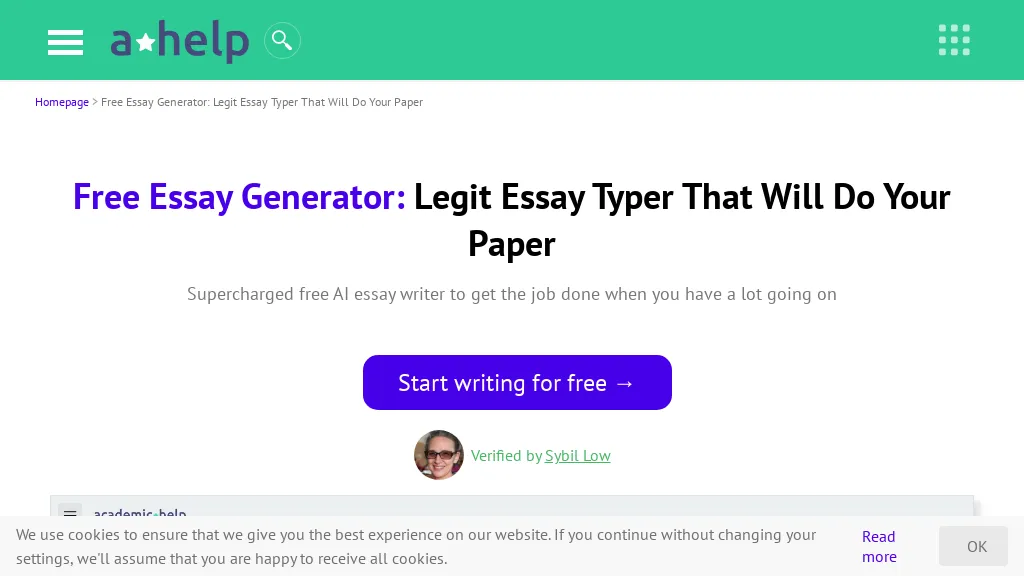 Visit AcademicHelp AI Writer's Site Save
What is AcademicHelp AI Writer?
4.9 2 ratings
AcademicHelp AI Writer is a Supercharged free AI essay writer that can find scholarly sources and add MLA/APA citations backed up with evidence. It offers features such as generating essays based on provided topics, organizing content, creating outlines, and generating citations in different styles (APA, MLA, etc.). The tool is user-friendly, requiring only basic inputs to generate complete essays. It supports various essay types, including descriptive, argumentative, narrative, persuasive, compare and contrast, and expository essays. The generated content can be used as a starting point for academic assignments, helping users save time and effort in research and writing. It aims to simplify the academic writing process and is suitable for various educational levels, from high school to higher education.
AcademicHelp AI Writer possible use cases:
Quickly generate essays for academic assignments.
Organize and structure content for research papers.
Assist with generating citations in different styles.

How do you rate AcademicHelp AI Writer?
🔥
Create your account, save tools & stay updated
Receive a weekly digest of our handpicked top tools.
Unsubscribe anytime