YT Copycat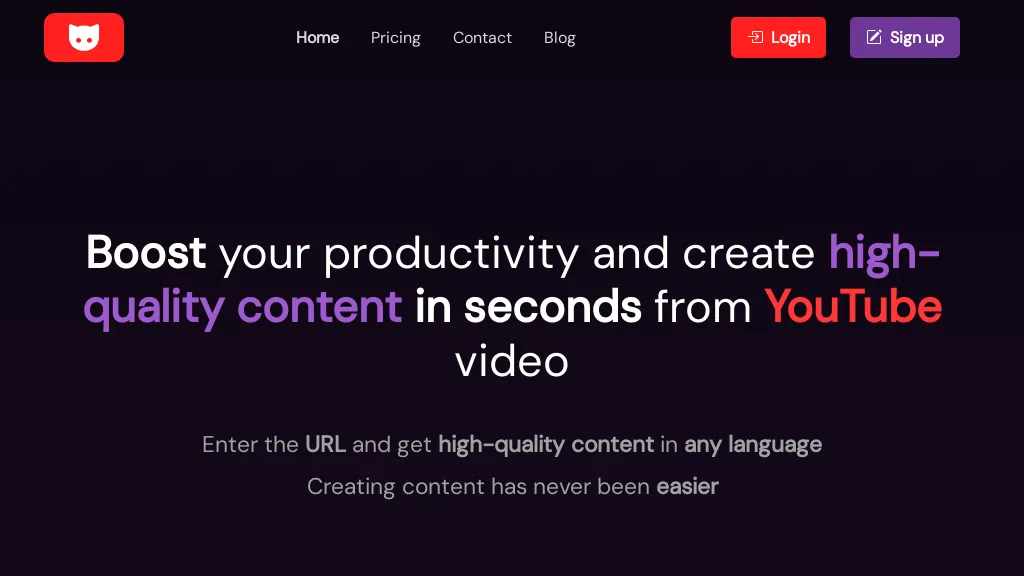 YT Copycat is a powerful AI tool that allows you to boost your productivity and create high-quality content in seconds. With just a YouTube video URL, you can generate SEO optimized blog articles, tweets, and even newsletters.

This tool is perfect for marketers, bloggers, influencers, and anyone looking to save time while creating quality content. Instead of watching an entire video, you can read a video summary, which is a practical alternative, especially when you have limited time or prefer reading over watching videos.

YT Copycat also helps you repurpose videos into different formats, such as blog posts and social media content, allowing you to reach a wider audience and maximize your content strategy. You can even drive traffic by publishing a large quantity of blog articles and tweets on a specific topic, significantly increasing your website traffic.

The main features of YT Copycat include the ability to create high-quality content from a YouTube video URL, generate engaging Twitter threads from a video, and even create newsletters for your audience based on trendy YouTube videos. Additionally, you can subscribe to your favorite YouTube channels and receive video summaries directly in your email inbox.

With the autopublish feature, you can automatically publish blog articles generated by YT Copycat for newly released videos, further boosting your content strategy. The tool also offers general improvements to enhance the generated content and user experience.

To use YT Copycat, simply enter the YouTube video URL you want to convert, let the tool work its magic in extracting the content, and within seconds, you'll have text content ready to use.
YT Copycat possible use cases:
Boost productivity by generating content from YouTube videos.
Create SEO optimized blog articles, tweets, and newsletters.
Repurpose videos into different formats for wider audience reach.

How do you rate YT Copycat?
4.8 1 ratings
Breakdown 👇
Featured Tools 🌟
✉️ Newsletter
Stay up to date with AI news, updates, discounts and more!
🔥
Create your account, save tools & stay updated
Receive a weekly digest of our handpicked top tools.
Unsubscribe anytime