WTF Does This Company Do?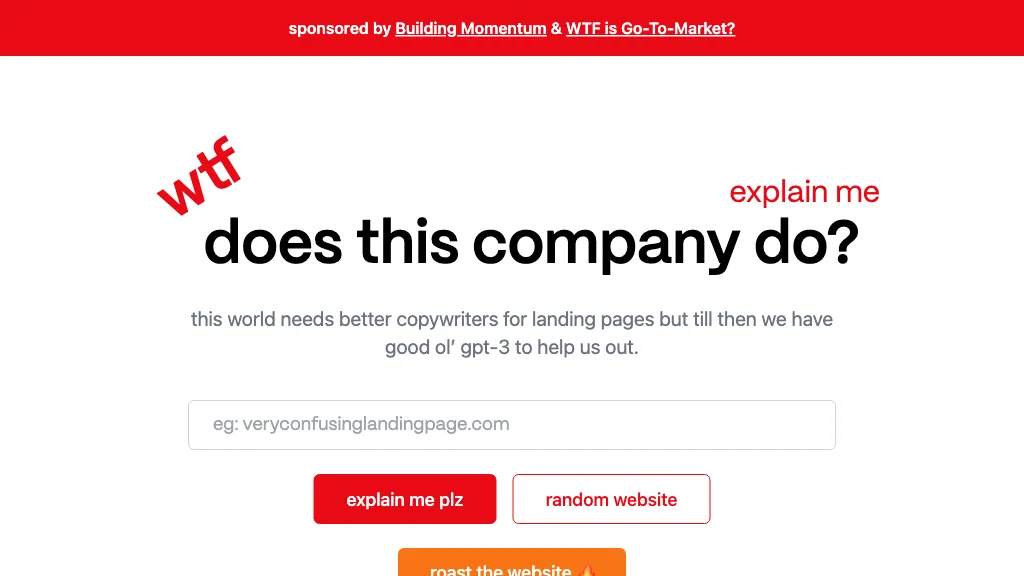 Visit WTF Does This Company Do?'s Site Save
What is WTF Does This Company Do?? 5 0 ratings
The AI tool is capable of helping with copywriting for landing pages. It uses GPT-3 technology to improve the quality of written content. The tool is offered by a company called Build Momentum, which also provides a free weekly newsletter to help businesses improve their SaaS product marketing. Additionally, the company offers a five-week course to help individuals develop skills and tools for building customer-focused product market strategies. Joining this course can help individuals gain confidence in their marketing abilities.
WTF Does This Company Do? possible use cases:
Generate high-quality landing page content.
Improve conversion rates with AI-generated copy.
Save time and resources on copywriting.

How do you rate WTF Does This Company Do??
5 0 ratings
Breakdown 👇
WTF Does This Company Do? is not rated yet, be the first to rate it
🔥
Create your account, save tools & stay updated
Receive a weekly digest of our handpicked top tools.
Unsubscribe anytime