Write.homes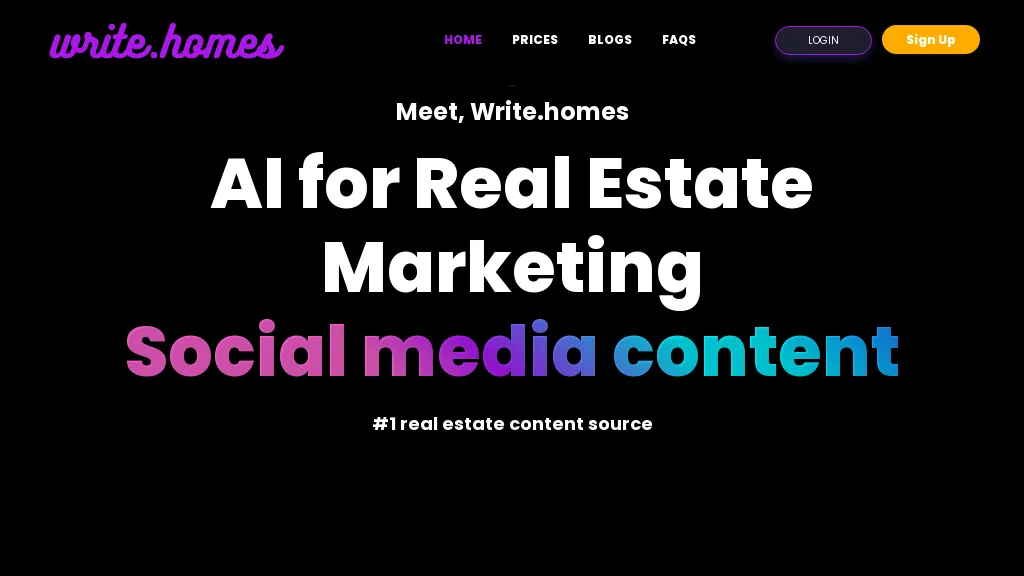 Write.Homes is an AI-powered website designed specifically for real estate agents. It offers a suite of writing tools to help with various aspects of the real estate business. With Write.Homes, agents can easily create engaging MLS listings, property descriptions, social media posts, and blog articles using customizable templates.

But it doesn't stop there. Write.Homes also provides utilities to optimize written content by improving clarity, summarizing key points, correcting grammar, and even translating text into different languages. In addition, it offers strategic support for generating negotiation strategies, analyzing contracts, and creating action plans.

In essence, Write.Homes streamlines and enhances the writing tasks associated with real estate, enabling agents to improve their marketing efforts, engage more effectively with clients, and manage transactions with greater ease and professionalism.

Real estate agents, brokers, and professionals can leverage AI in various ways. Write.Homes can help optimize marketing efforts by personalizing email campaigns, tailoring social media ads, and assisting with content creation for listings and blogs. It also offers contract analysis and negotiation tools powered by AI, as well as the ability to create content like property descriptions, blog posts, and social media updates using templates.

Translation services are also available, allowing agents to instantly translate text into different languages, which can be particularly helpful for markets with diverse clientele and international transactions. Additionally, Write.Homes offers sentiment analysis to analyze client reviews and feedback, identifying trends and potential areas for improvement in services.
Write.homes possible use cases:
Create engaging MLS listings and property descriptions.
Optimize written content and improve clarity for real estate and property listing.
Generate negotiation strategies and analyze contracts of real estate deals.

How do you rate Write.homes?
🔥
Create your account, save tools & stay updated
Receive a weekly digest of our handpicked top tools.
Unsubscribe anytime