Trickle 1.0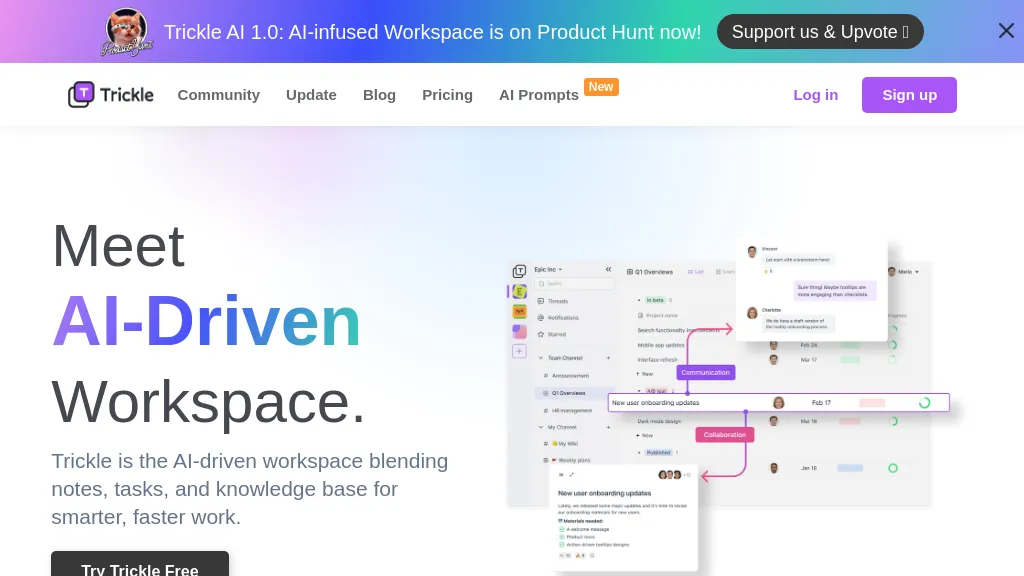 Trickle is an AI-driven workspace that blends notes, tasks, and knowledge base for smarter, faster work. It seamlessly integrates documents, notes, databases, and more into a unified hub, transforming the way teams collaborate.

Trickle offers customizable views, including boards and lists, to visualize and prioritize tasks. It provides group chat and post channels for context-specific collaboration and communication. With the power of AI, Trickle infuses GPT-4 to enhance workflow, spark creativity, and inspire new ideas.

It caters to both teams and individuals, enabling collaborative communication, project prioritization, product visualization, team wikis, note-taking, and personal task management. Trickle aims to create a community-driven workplace experience.

How do you rate Trickle 1.0?
5 0 ratings
Breakdown 👇
Trickle 1.0 is not rated yet, be the first to rate it
Featured Tools 🌟
✉️ Newsletter
Stay up to date with AI news, updates, discounts and more!
🔥
Create your account, save tools & stay updated
Receive a weekly digest of our handpicked top tools.
Unsubscribe anytime