Slatebox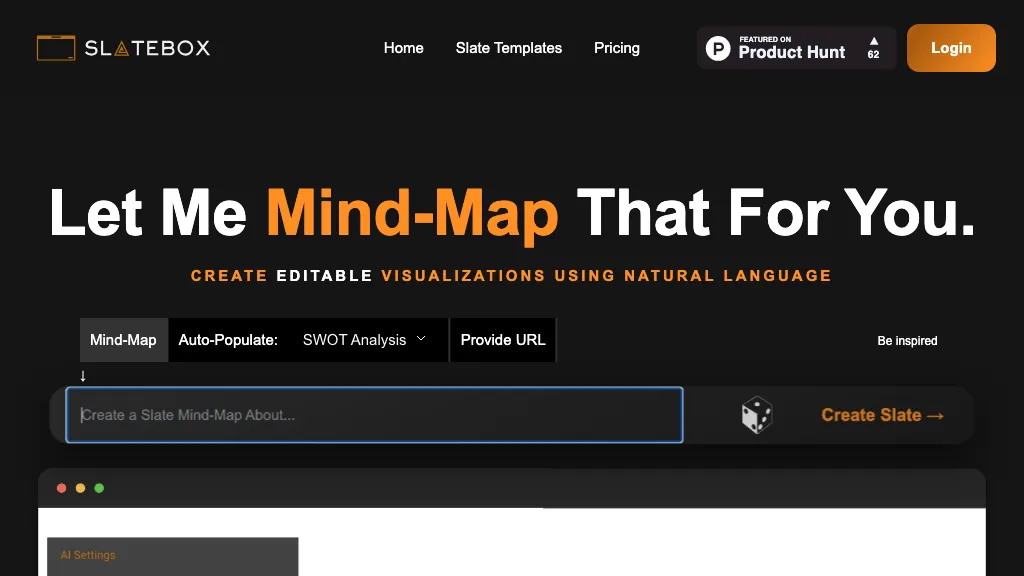 Slatebox is an AI tool that allows you to create editable visualizations using natural language prompts and mind-maps. With its auto-populate feature, you can easily generate diagrams and visuals with varying levels of detail and choose from over 100 templates. Whether you need to perform a SWOT analysis or a pro-con evaluation, Slatebox has got you covered. You can provide a URL or a text prompt, and the AI assistant will instantly produce sticky notes and populate your visualizations accordingly.

In addition to its powerful AI capabilities, Slatebox also offers real-time collaboration features where you can work with your team on multi-cursor canvases. You can integrate Slatebox with various platforms such as Microsoft Teams, Slack, and GitHub to streamline your workflow. Furthermore, Slatebox provides magic links that allow you to instantly share your visualizations with friends or colleagues.

Slatebox enables you to build mind-maps and brainstorming sessions from simple prompts. Its intuitive interface makes it easy to use; you simply click, change, and repeat. With Slatebox's AI assistance, you can unlock your team's potential and achieve successful outcomes in tasks such as retrospectives, daily standups, and design sessions.

Privacy is a top priority for Slatebox, offering Google Docs-like privacy controls for your slates. The tool also allows you to add comments and resolve outstanding items asynchronously, improving collaboration and productivity.

Slatebox provides an extensive library of templates and themes, allowing you to quickly change the look and feel of your visualizations. It also offers smart color picking for easy customization of your color palette. You can even capture snapshots of your slates and revert to previous versions whenever you need.

With Slatebox, you can wireframe apps and iterate ideas efficiently through drag-and-drop functionality. Its expressive mind-maps and AI superpowers make it a standout tool for brainstorming and concept visualization. Users have praised Slatebox for its simplicity and powerful features that are unrivaled in other concept drawing tools.
Slatebox possible use cases:
Visualize the make SWOT analysis.
Improve brainstorming sessions with visual mind maps.

How do you rate Slatebox?
5 0 ratings
Breakdown 👇
Slatebox is not rated yet, be the first to rate it
🔥
Create your account, save tools & stay updated
Receive a weekly digest of our handpicked top tools.
Unsubscribe anytime