Noah AI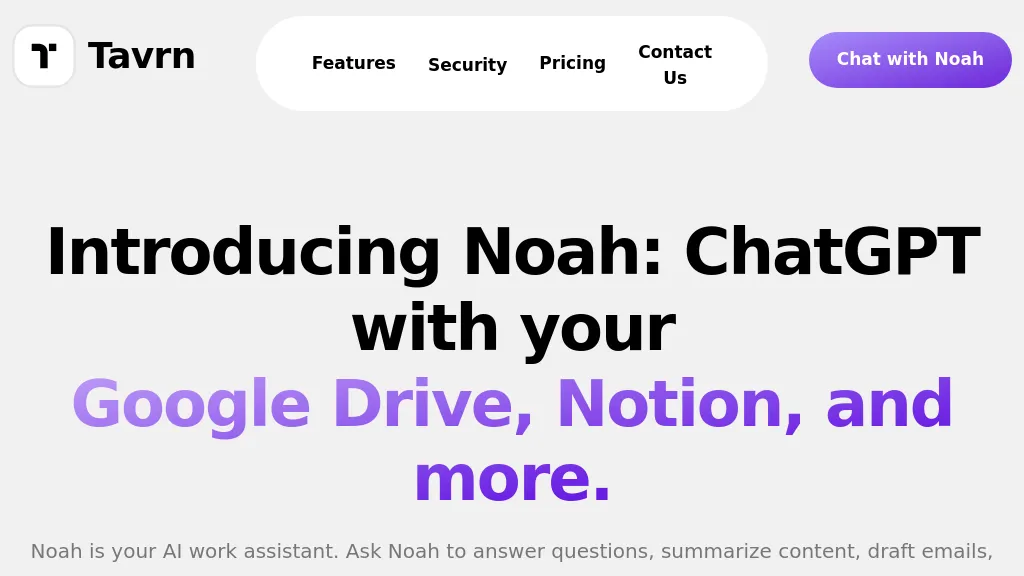 Visit Noah AI's Site Save
Noah is a powerful chatbot that can be integrated with popular tools like Google Drive and Notion. With Noah, you can ask questions, summarize content, and even draft emails. It offers seamless integration with your favorite productivity tools.

Tavrn takes security seriously and follows the best industry practices to protect your data. It is SOC 2 compliant and ensures that your data is encrypted both at rest and in transit. You can trust Noah to keep your information safe.

Noah offers various pricing plans to suit different needs. You can start with a free trial, which includes 10 messages, 10 Google Drive files, and 30 Notion pages.

For enterprise customers, Noah offers a dedicated plan with custom workflows and multiple seats to accommodate teams of all sizes. You can also integrate Noah with tools like Slack, Microsoft Teams, Zendesk, HubSpot, Stripe, and Salesforce to streamline your workflow.

If you have any questions or need immediate assistance, Tavrn provides live support to address your queries.
Noah AI possible use cases:
Efficient task management and organization.
Automated content summarization and information retrieval.
Streamlined communication and collaboration.

4.2 2 ratings
Breakdown 👇
Featured Tools 🌟
✉️ Newsletter
Stay up to date with AI news, updates, discounts and more!
🔥
Create your account, save tools & stay updated
Receive a weekly digest of our handpicked top tools.
Unsubscribe anytime