Mind Grasp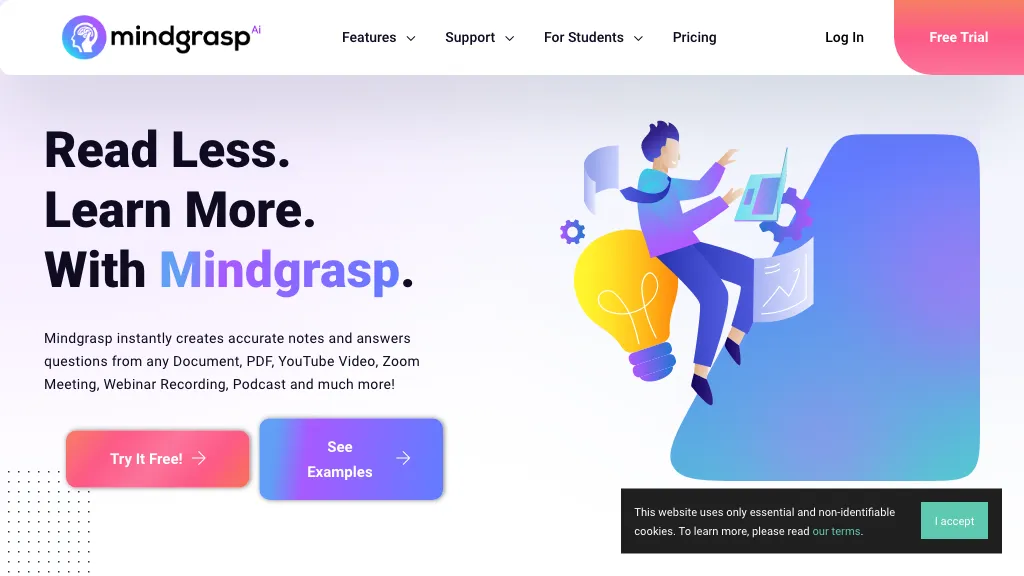 Mindgrasp instantly creates accurate notes and answers questions from any Document, PDF, YouTube Video, Zoom Meeting, Webinar Recording, Podcast and much more!
Mind Grasp Highlights:
✅ Read Less. Learn More. With Mindgrasp.
✅ Our Powerful Tools
✅ Generate Notes/Summary
✅ Ask a Question
✅ Video Summarizer
✅ Why students, professionals, and avid readers love Mindgrasp
✅ What People Are Saying
✅ Designed to save you time and help you learn. Mindgrasp is now available on your iOS devices!
Mind Grasp possible use cases:
Quick note-taking during meetings.
Summarizing research materials.
Answering questions from recorded lectures.

How do you rate Mind Grasp?
5 0 ratings
Breakdown 👇
Mind Grasp is not rated yet, be the first to rate it
🔥
Create your account, save tools & stay updated
Receive a weekly digest of our handpicked top tools.
Unsubscribe anytime