IngestAi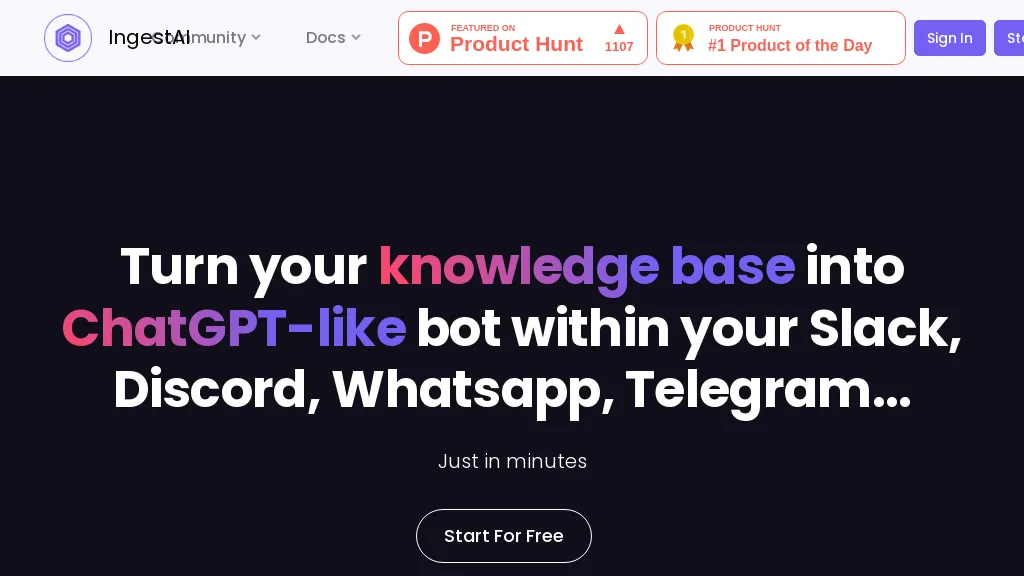 Create a ChatGPT-powered knowledge base, within minutes. Embed it into your website, use it within Slack, Discord, WhatsApp, Telegram, MS Teams, or through the IngestAI API endpoints. IngestAI makes it easy to deliver an excellent chatbot experience in your apps & websites. You can now literally chat with your wikis, docs, or knowledge base. By using IngestAI to build an AI-powered knowledge base from wikis together with a Q&A interface in the form of a ChatGPT-like chatbot, companies significantly improve the speed and relevancy of knowledge delivery, thus helping their workers be more productive and customers more satisfied.
IngestAi Highlights:
✅ Build a Virtual Learning Assistant
✅ Build your Search Engine for Technical Support Agents
✅ Create your Customer Support Q&A Chatbot
✅ Create a Competence Center Support Chatbot
✅ Your Intelligent Chatbot 24 x 7 Assistance
✅ Turn your knowledge base into ChatGPT-like bot within your Slack, Discord, Whatsapp, Telegram.
IngestAi possible use cases:
Improve knowledge delivery for workers.
Enhance customer satisfaction by providing them with a support chat agent.
Increase team's productivity by making your internal knowledge base accessible everywhere.

How do you rate IngestAi?
5 0 ratings
Breakdown 👇
IngestAi is not rated yet, be the first to rate it
Featured Tools 🌟
✉️ Newsletter
Stay up to date with AI news, updates, discounts and more!
🔥
Create your account, save tools & stay updated
Receive a weekly digest of our handpicked top tools.
Unsubscribe anytime