Gitwit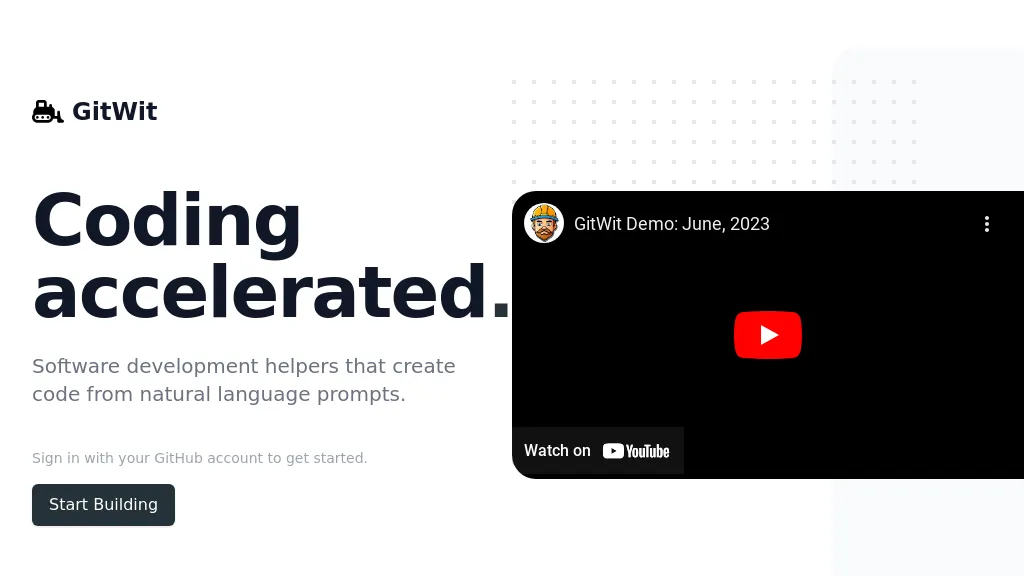 Visit Gitwit's Site Save
Gitwit is a coding acceleration tool that helps software developers create code using natural language prompts.Users can sign in using their GitHub account to get started and seamlessly tie together large language models with modern developer tools.

With Gitwit, developers can spawn and modify codebases using a single prompt.The tool can be used to automate the generation of boilerplate code and add features to full-stack apps.Gitwit is primarily aimed at full-stack developers, particularly those who enjoy a learning mindset and are interested in learning new stack technologies.

The tool is currently offered for free, allowing users to work on up to three projects with unlimited revisions, including branches and pull requests.Gitwit uses a GPT-based agent to generate code and track changes made to files.
Gitwit possible use cases:
automate boilerplate code generation for developer productivity.
Add features to full-stack apps by getting the help of the code assistant to speed up new features.
Helps to spawn and modify codebases quickly to start a new project.

5 0 ratings
Breakdown 👇
Gitwit is not rated yet, be the first to rate it
🔥
Create your account, save tools & stay updated
Receive a weekly digest of our handpicked top tools.
Unsubscribe anytime