Get Genie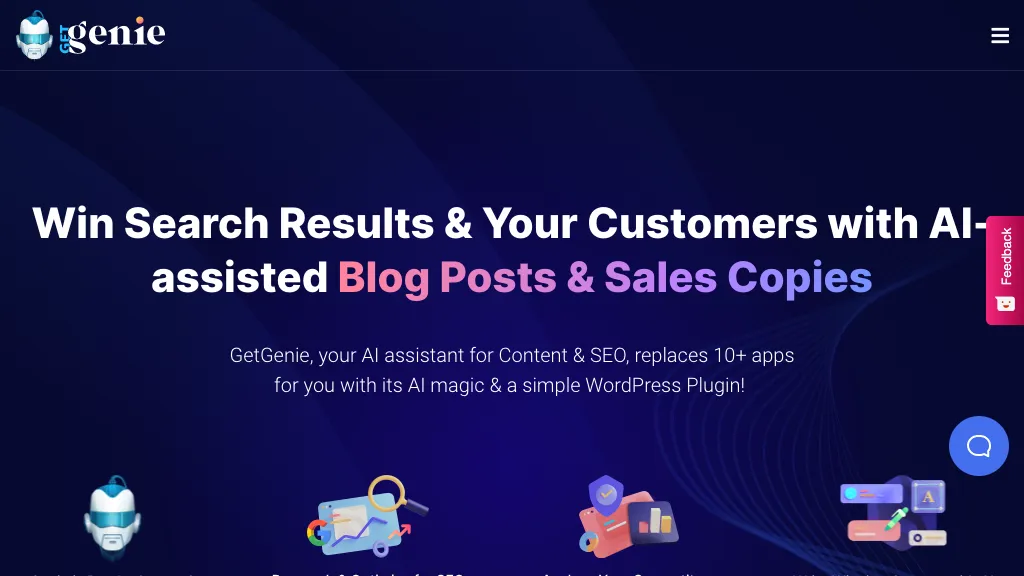 GetGenie, your AI assistant for Content & SEO, replaces 10+ apps for you with its AI magic & a simple WordPress Plugin! 
Get Genie Highlights:
✅ Blog Post Generator Wizard
✅ Social Post Generator
✅ Ad copy Generator
✅ WooCommerce Product Description
✅ Elementor Advanced Support
✅ Competitor Analysis
✅ Content Score Analysis
✅ Browser Extensions
✅ Email Copy Generator
✅ Research & Optimize for SEO
✅ Analyze Your Competitors
✅ Write Winning Content with AI
✅ Boom! Rank, Grow & Earn!
✅ One AI superapp to Replace them all!
✅ AIDA Framework
✅ Title Ideas
✅ Meta Description
✅ Paragraph for Heading
✅ Social Media Copy
✅ Product Description
✅ Paragraph Rewriter
Get Genie possible use cases:
Keyword research.
Content optimization.
Competitor analysis.

How do you rate Get Genie?
5 0 ratings
Breakdown 👇
Get Genie is not rated yet, be the first to rate it
Featured Tools 🌟
✉️ Newsletter
Stay up to date with AI news, updates, discounts and more!
🔥
Create your account, save tools & stay updated
Receive a weekly digest of our handpicked top tools.
Unsubscribe anytime