GenixGPT - Travel AI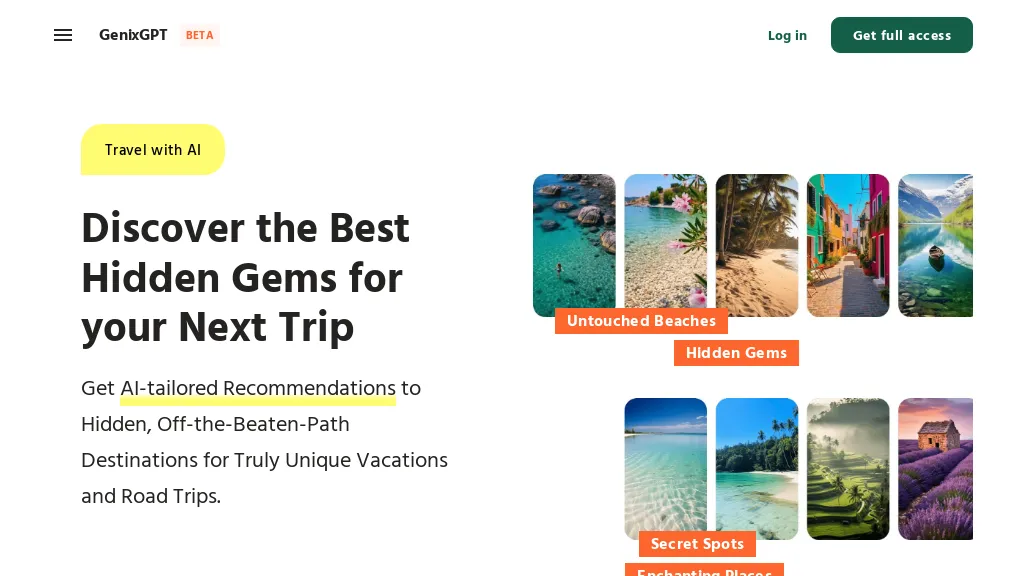 Visit GenixGPT - Travel AI's Site Save
What is GenixGPT - Travel AI? 5 0 ratings
GenixGPT is an AI travel planner that helps you discover the best hidden gems and off-the-beaten-path destinations for your next trip. With AI-tailored recommendations, it provides unique and truly personalized vacation suggestions in minutes. Stop endlessly sifting through search results on Google, as GenixGPT expertly discovers spots that perfectly align with your personal taste.

Whether you're looking for remote and rugged landscapes, stunning views, or untouched beauty, GenixGPT can help. It also uncovers hidden gems for you with the help of AI.

GenixGPT is an AI companion for your vacation planning, making it easier to find the perfect destinations. Its personalized recommendations and ability to uncover hidden gems will help you create truly memorable trips.Discover the best places for your next adventure with GenixGPT, made with love for passionate travelers.
GenixGPT - Travel AI possible use cases:
Find personalized vacation suggestions with the help of AI.
Discover personalized hidden gems for travel easily.
Plan memorable trips easily without the hustle of searching.
Get personalized and unique travel recommendations for your next trip.

How do you rate GenixGPT - Travel AI?
5 0 ratings
Breakdown 👇
GenixGPT - Travel AI is not rated yet, be the first to rate it
🔥
Create your account, save tools & stay updated
Receive a weekly digest of our handpicked top tools.
Unsubscribe anytime