Duino Code Generator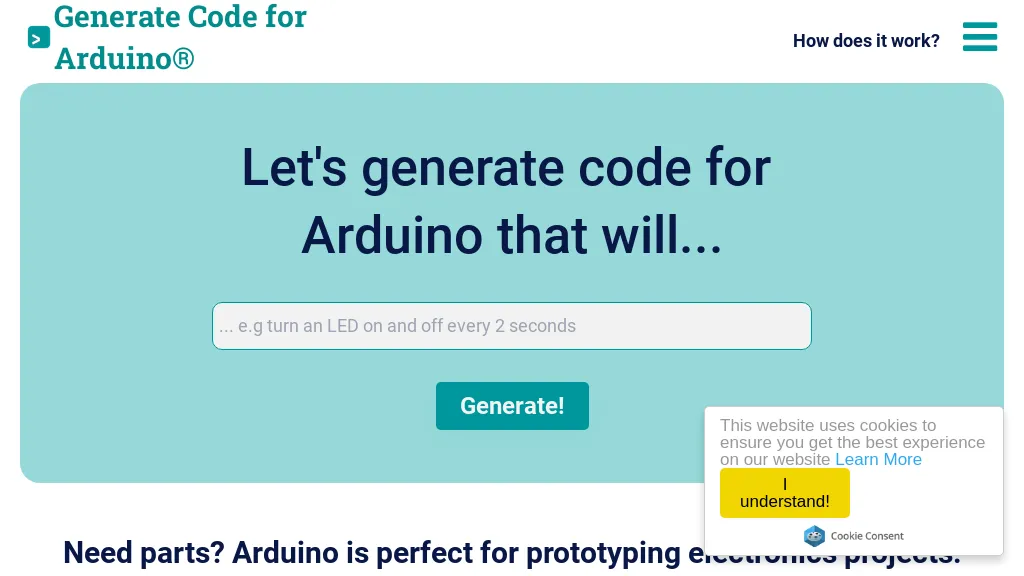 Visit Duino Code Generator's Site Save
What is Duino Code Generator? 5 0 ratings
The tool is a code generator for Arduino. It emphasizes the compatibility of the Arduino boards, particularly the Elegoo Uno R3 and Mega2560 R3 boards. The tool includes 37 sensor modules and a CD with various tutorials. The generated code is based on GPT-3, an open-source language-generating model, and must be reviewed before being uploaded to hardware devices. The tool is not affiliated with Arduino, but it is part of the Amazon Services LLC Associates Program, which allows the site to earn advertising fees from Amazon.com links.
Duino Code Generator possible use cases:
Generate code for Arduino projects.
Learn about sensor modules and tutorials.
Review and upload code to hardware devices.

How do you rate Duino Code Generator?
5 0 ratings
Breakdown 👇
Duino Code Generator is not rated yet, be the first to rate it
🔥
Create your account, save tools & stay updated
Receive a weekly digest of our handpicked top tools.
Unsubscribe anytime