DRIV AI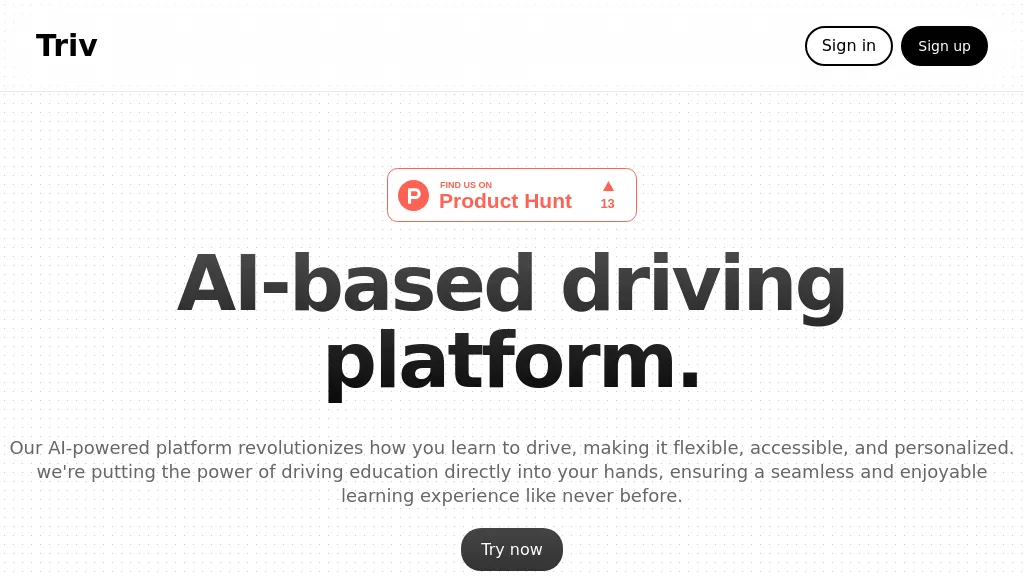 Visit DRIV AI's Site Save
Triv 2.0 is an AI-powered driving platform that revolutionizes the way you learn to drive. With Triv, driving education becomes flexible, accessible, and personalized, bringing the power of learning directly into your hands. This platform offers a seamless and enjoyable learning experience like never before.

Triv goes beyond a simple app – it is a learning experience that unlocks your potential in your journey to become a confident and skilled driver. The platform has a cost-effective and time-saving approach to personalized learning. It offers educational content, progress tracking, and the ability to shape your learning experience programmatically.

Triv AI is a game-changer in driving mastery, allowing you to embark on a swift learning journey that typically spans from 6 months to 1 year. The timeline is flexible, ensuring that you are ready to hit the roads at your own pace. Within just 6 hours, you will grasp the essentials, and after 45 hours, you'll have a deep understanding of the mechanics of a car.
DRIV AI possible use cases:
AI powered Flexible and personalized driving education.
Cost-effective alternative to traditional driving schools.
Enhancing driving skills through interactive simulations.

5 0 ratings
Breakdown 👇
DRIV AI is not rated yet, be the first to rate it
🔥
Create your account, save tools & stay updated
Receive a weekly digest of our handpicked top tools.
Unsubscribe anytime