Dreamwave | AI Headshots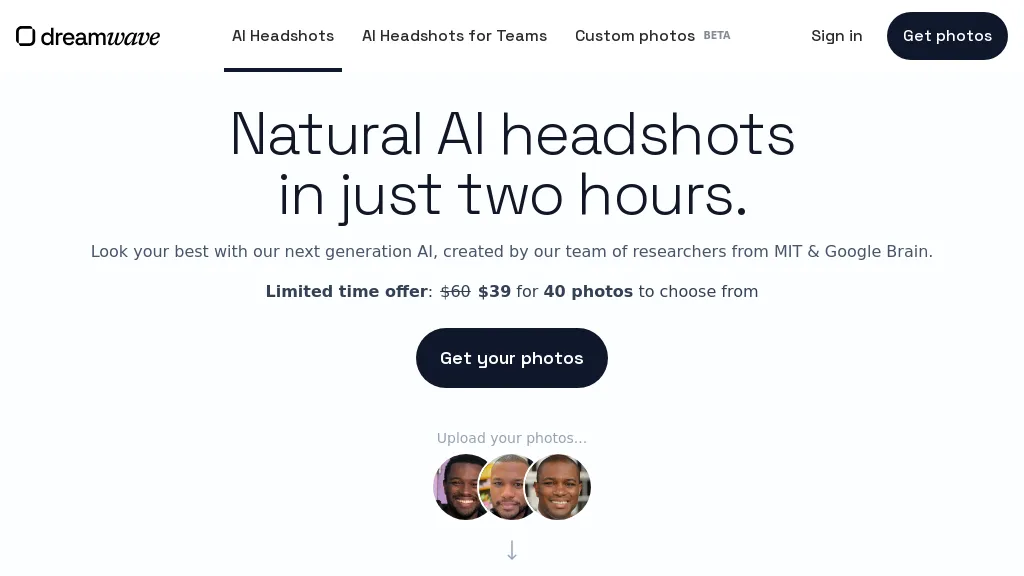 Visit Dreamwave | AI Headshots's Site Save
What is Dreamwave | AI Headshots? 5 0 ratings
Dreamwave is an AI headshot generator that can produce high-quality AI headshots in under two hours. To use it, users only need to upload 5-8 sample photos. Dreamwave is perfect for students, job seekers, real estate agents, lawyers, therapists, client-facing professionals, or anyone who needs to update their social media, LinkedIn, professional websites, and more.

Dreamwave's AI headshot generator was developed by a team of AI experts previously at MIT and Google Brain. Dreamwave's proprietary technology leads to higher quality, higher resolution photos, as well as better likeness in their AI-generated photos (i.e., photos that look like you).
Dreamwave | AI Headshots possible use cases:
Students looking to refresh their online profile pictures.
Job seekers aiming for a professional online presence.
Real estate agents, lawyers, and therapists updating visuals for their business websites.

How do you rate Dreamwave | AI Headshots?
5 0 ratings
Breakdown 👇
Dreamwave | AI Headshots is not rated yet, be the first to rate it
Featured Tools 🌟
✉️ Newsletter
Stay up to date with AI news, updates, discounts and more!
🔥
Create your account, save tools & stay updated
Receive a weekly digest of our handpicked top tools.
Unsubscribe anytime