D-ID Creative Reality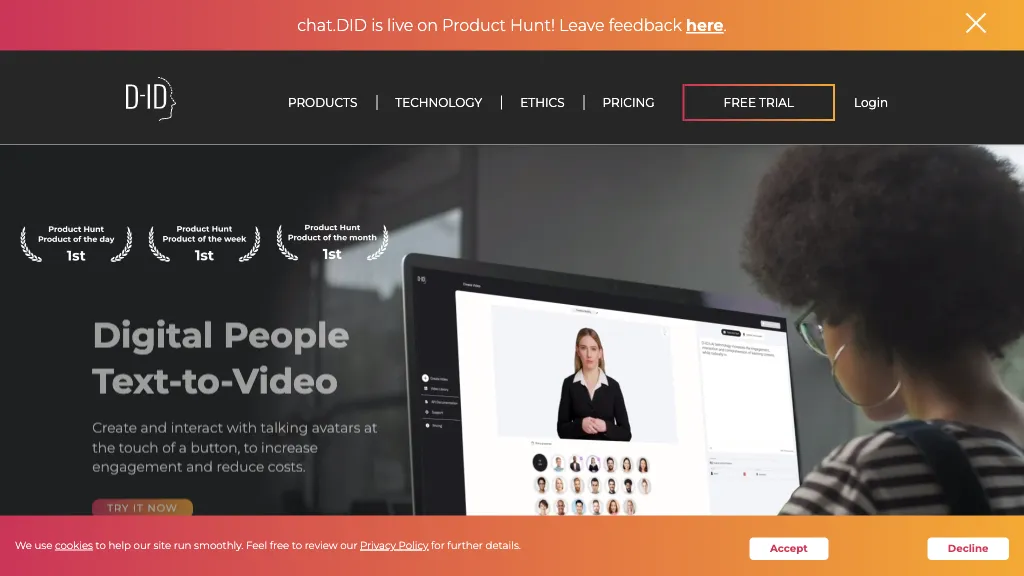 Visit D-ID Creative Reality's Site Save
What is D-ID Creative Reality? 0 0 ratings
D-ID is an AI tool that enables users to transform pictures into extraordinary video experiences using their proprietary Creative Reality™ technology. It offers a free trial login for people to create interactive, text-to-video content that engages audiences and reduces cost. Using the latest generation AI tools, users can create talking avatars and stunning videos without technical knowledge or hassle. D-ID also offers an API solution that is robust, scalable, and super easy to use with just four lines of code. It supports the creation of a whole ecosystem around the platform with endless possibilities.
D-ID Creative Reality possible use cases:
Create engaging video content for social media.
Develop interactive training videos for employees.
Produce personalized video messages for customers.

How do you rate D-ID Creative Reality?
0 0 ratings
Breakdown 👇
D-ID Creative Reality is not rated yet, be the first to rate it
🔥
Create your account, save tools & stay updated
Receive a weekly digest of our handpicked top tools.
Unsubscribe anytime