CometCore AI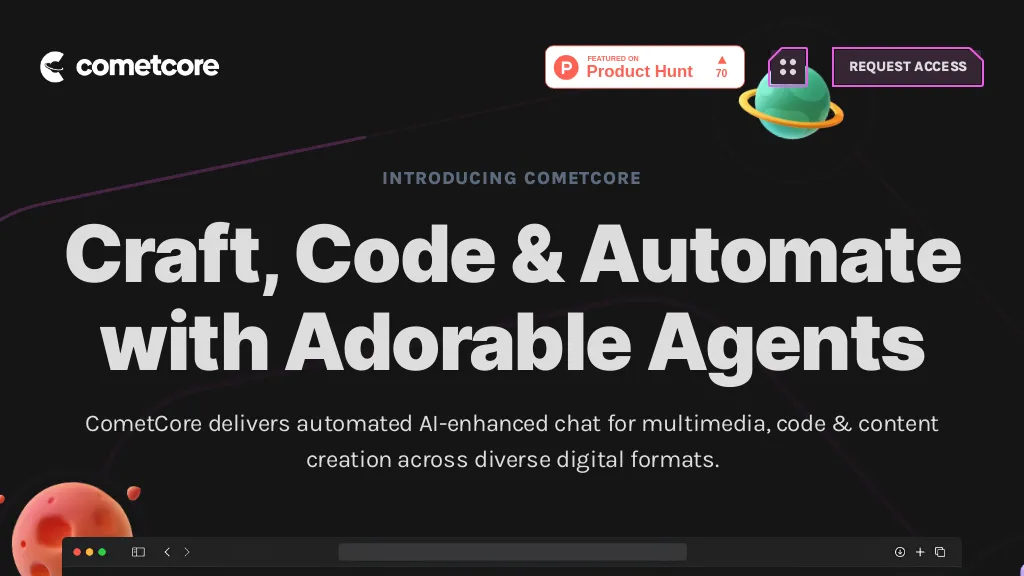 Visit CometCore AI's Site Save
Cometcore AI is an innovative platform that offers a versatile range of AI-powered tools to enhance productivity and communication. With Cometcore, you can craft, code, and automate adorable agents to assist you in various digital tasks.

The main features of Cometcore include freestyle coding AI assistance, code generation templates, and collaborative development features. It also provides multimedia editing and enhancement tools, allowing you to effortlessly edit and enhance videos, sound, and images using AI-driven technology.

With Cometcore's automation capabilities, you can sit back and observe as two robot agents collaborate to accomplish a list of tasks. It also offers advanced AI-powered writing templates for generating compelling text, blog tools for content creation, and marketing tools for creating ad copy and designing banners to target the right audience on top ad platforms.

Additionally, Cometcore provides SEO and data analysis tools for creating SEO-friendly content, performing keyword research, and analyzing data through AI-powered visualization and reporting. It also offers website building capabilities for creating professional landing pages with just a click.

Cometcore's online GPT automation allows you to discover the potential of GPT-4 automation through a connected platform. It enables you to effortlessly create custom AI agents that streamline daily tasks and perform common actions through user-friendly commands. You can even personalize your AI assistant to reserve tables, order groceries, and maximize productivity, simplifying your life.

Cometcore supports both chat and voice interactions, allowing you to interact with GPT-4 through text commands or voice recordings in your preferred language. This user-friendly platform breaks language barriers and provides seamless access to powerful AI capabilities.
CometCore AI possible use cases:
Crafting, coding, and automating adorable AI agents to perform the tasks of your choice.
Automated dditing and enhancing multimedia using AI-driven technology based on any workflow.
Creating SEO-friendly content and performing data analysis with an automation agent.

How do you rate CometCore AI?
5 0 ratings
Breakdown 👇
CometCore AI is not rated yet, be the first to rate it
🔥
Create your account, save tools & stay updated
Receive a weekly digest of our handpicked top tools.
Unsubscribe anytime