Build Chatbot AI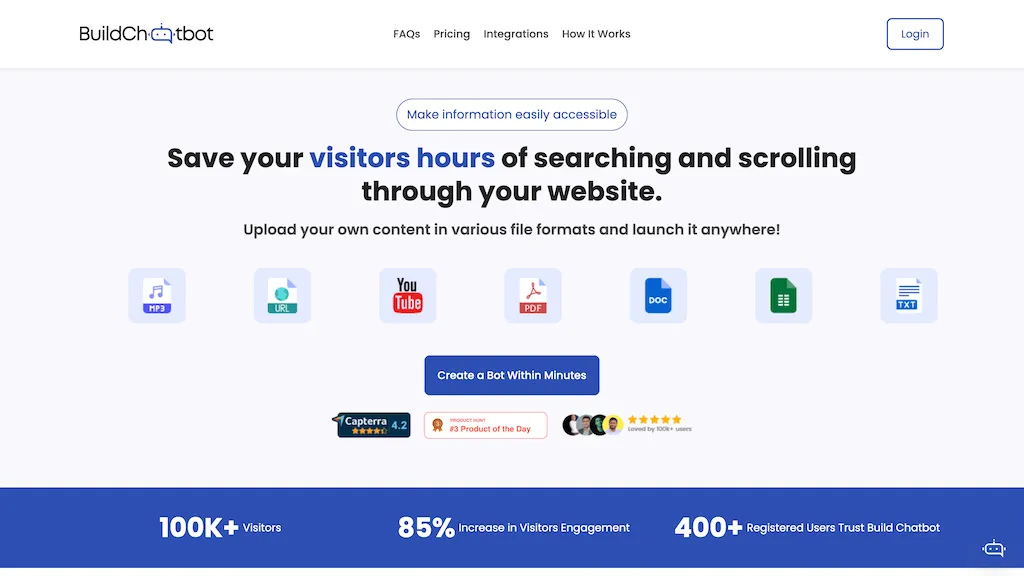 Visit Build Chatbot AI's Site Save
Build Chatbot is an all-in-one AI chatbot tool designed to enhance website visitor experiences by providing personalized chat interactions. It allows businesses and individuals to easily create and train chatbots that provide precise information and answers to visitor queries. The tool supports various data formats, including audio, video, and website URLs, and allows users to customize the chatbot to align with their brand ethos.

With features like chat history, updating responses, and refining engagements, Build Chatbot enables businesses to provide efficient and responsive online experiences, resulting in a boost in conversions. The tool also offers support for a wide range of file formats, such as PDFs, CSVs, and DOCX files, making data management effortless. Additionally, it offers integrations with platforms like Slack for enhanced team communication and collaboration.

Build Chatbot provides a user-friendly interface and requires no coding knowledge, making it accessible to everyone.
Build Chatbot AI possible use cases:
Build and create Customer support chat agents based on your internal knowledge.
Create chat agents to help with lead generation or sales queries.
Create internal chatbots for employees based on internal knowledge base.

How do you rate Build Chatbot AI?
4.9 3 ratings
Breakdown 👇
Featured Tools 🌟
✉️ Newsletter
Stay up to date with AI news, updates, discounts and more!
🔥
Create your account, save tools & stay updated
Receive a weekly digest of our handpicked top tools.
Unsubscribe anytime